How to Make a Resume With No Experience
Writing a resume for your first job or simply applying somewhere with no experience can be a scary prospect. You may have no idea how to start your resume, the best way to list your job skills, or even which resume format to choose.
Additionally, work experience is often considered the "meat" of a resume, and you likely don't have much at this point.
But we all have to start somewhere, and employers know it. This post provides guidelines for making your resume effective even if you have no experience.
1. Start with a Resume Summary
While researching how to write a resume, you probably read about the benefits of including a resume summary.
Your resume summary is an introduction to employers that highlights your qualifications and relevant background for a specific job. Thankfully, even without experience, you can still write one.
If you picked up relevant skills during school or studied something related to the job, for instance, you can include it in your summary. Here's an example of a computer science major's resume summary — note how they only include skills honed in school, and don't mention work experience:
Computer Science major seeking to leverage my experience in robotics, Javascript, C+, and C into a role as an Engineering Intern at Popov Technology. A highly motivated worker who is passionate about the future of computer technology and engineering.
2. Include Your Relevant Non-Work Experience
Job hunting can feel like an uphill task when you don't have work experience. How are you supposed to write an entire one-page resume with no experience?
Fortunately, many recruiters are looking for more than just formal work experience. Other things you can put on your resume to help you land work include relevant skills, life experiences (school, coursework, internships), and your educational background. A combination of these elements can help you demonstrate how you're still an excellent fit for the job.
While these experiences and skills aren't tied to your work experience (since you have none), they still help you demonstrate what you have to offer a company if hired. Some professional abilities you may have honed in your life include:
Managing or directing
Customer service
Communication skills (verbal and written)
Leadership
Teamwork
Research
3. Describe Your Educational Background
As a no-experience job seeker, your educational background is likely your strongest job qualification (unless you have some relevant volunteer work to list on your resume). This is especially true if you're writing a college freshman resume or have recently graduated.
One approach to highlight this background is to describe your relevant coursework first, like this: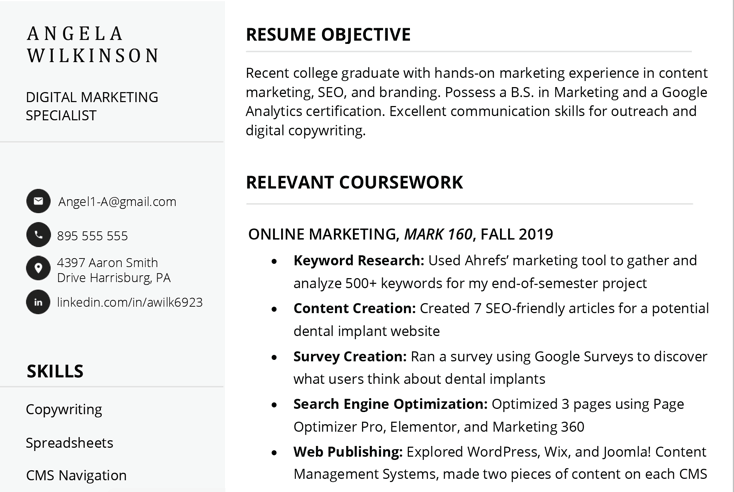 You also need a resume education section, regardless if you want to mention your relevant classwork. And because you're applying for your first time job, it's okay to make this section longer to fit your academic experiences.
Expand your education section by mentioning any student committees you were part of, and any scholarships, awards, or honors you were awarded. Additionally, include your GPA on your resume (if it's over 3.5) to further emphasize your work ethic and potential.
These details are helpful for recruiters and hiring managers, and give them another way to assess your resume other than work experience.
Here's an example of a smaller resume education section taken from a no-experience resume:
UCLA – Los Angeles, California
M.S. in Computer Science (Graduated 2016)
California Institute of Technology – Pasadena, California
B.S. in Electrical Engineering (Graduated 2010)
4. Showcase Your Relevant Skills
Writing a strong resume skills section will set you apart in your job search and increase your chances of landing an interview. However, if you're like most no-experience job-seekers, your technical skills may be limited.
In this case, use your resume to highlight the soft skills you've acquired throughout your life. Soft skills (such as interpersonal skills or communication skills) are applicable for nearly any industry, and are valued by employers.
Here are some examples of soft skills:
Critical thinking
Communication
Leadership
Teamwork
Positive attitude
Assertiveness
Additionally, listing foreign language skills on your resume (if you have any) is a great way to stand out from other applicants and fill out your skills section.
5. Format Your Resume Properly
The right resume format makes your resume easier to read and highlights your most marketable skills and experiences.
Here are three tips to help better format your resume when you have no experience:
Don't center any of your text. All of the text on your resume should be aligned to the left. This makes your resume easier to read because the eye naturally returns to the left side of the page after reading a line.
Change "work experience" to "relevant experience." If you've never held a job, make your experience section more general. This way, you can include information about extracurricular activities, volunteer work, or relevant coursework on your resume.
Use digits when writing about numbers. Make your resume easy to read by using digits (i.e. 15% instead of fifteen percent).
6. Customize Your Resume to the Job Opening
With no experience, your best chance to get an interview is to target your resume to the specific job you want. Check out their listing for the position, and see what skills they're looking for. From those skills, take the ones you have and place them in your skills section.
You can also reuse some of the language elsewhere in your resume, like in your resume summary or experience section.
Fitting these skills into your resume is important because many companies still use applicant tracking systems (or ATS) to scan for resumes keywords. This helps them filter large quantities of applicants and determine which ones are worth evaluating further.
If you make an ATS friendly resume, you set yourself up for success against candidates who might have more experience than you.
No Experience Resume Template
To help you get started on your resume with no experience, here's a resume template that you can use to help you write your own:
Jane Doe
18 Sunnyside Boulevard, Pasadena, CA 16543
Janedoe@email.com
(718) 251 1241
OBJECTIVE
Computer Science major seeking to leverage my experience in robotics, Javascript, C+, and C into a role as an Engineering Intern at Popov Technology. A highly motivated worker who is passionate about the future of computer technology and engineering.
EDUCATION
California Institute of Technology – Pasadena, California
B.S. in Electrical Engineering (Graduated 2010)(3.9 GPA)
Honors: summa cum laude
Relevant Coursework:
Computer Science Theory
Data Logic
Data Management
RELEVANT EXPERIENCE
Soup Kitchen Volunteer — Pasadena, CA
September 2019 – July 2020
Acted as a holiday volunteer manager at a local soup kitchen.
Assisted with preparing and distributing meals during holidays.
Organized a schoolwide food drive that collected over 250 cans of food in November 2019.
UCLA Robotics Club – Pasadena, CA
Vice-President
November 2018 – Present
Lead a team of 6 other computer science students.
Developed, programmed, and built award-winning robots for annual conferences.
Won the second place prize at the 2019 California BattleBots competition.
HARD SKILLS
JavaScript, C, C++, Linux, Visual Basic, Microsoft Office
SOFT SKILLS
Highly collaborative, public speaking, adaptable, leadership
AWARDS & ACHIEVEMENTS
MVP, UCLA Varsity softball team
President of high school Volunteer Club