In 2022, being able to make a top-quality resume is vital for getting a top-quality job. The pandemic has changed lives in many ways, but submitting a resume (with a cover letter) remains the best way to land the position you want.
How to make a resume in 11 steps
Here's how to make a resume that lands you a job in 11 simple steps: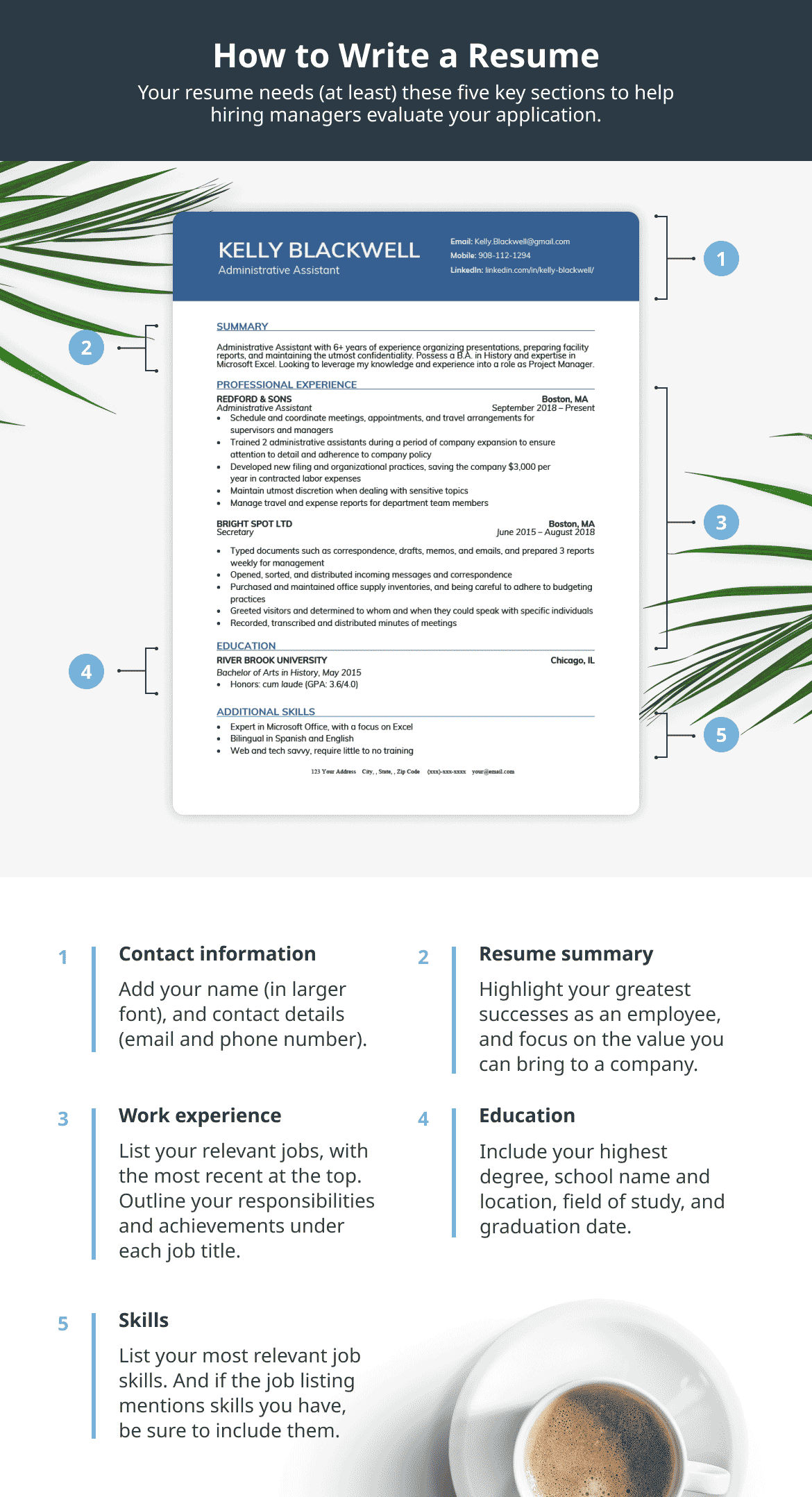 If you need a basic template for your resume, here's a copy-paste resume outline you can put into a word processor (such as MS Word or Google Docs) or your preferred resume template. Follow the instructions, write your resume, and you'll soon be ready to apply for jobs:
Template resume text (copy & paste)
Your Name
Your Current Job Title
(xxx) xxx-xxxx | firstname.lastname@email.com | 47 Your Address, City, State, ZIP Code
Resume Introduction
Three to four sentences that describe your years of experience, your most noteworthy accomplishments and skills, and your target role. Try to include hard numbers in your resume introduction as you describe your accomplishments, and add the target company's name here to show that you're writing a targeted resume.
Work Experience
Current Job Title
Company Name | City, State | Month, Year–present
Use the present tense as you write bullet points that describe your current job
Start each bullet point with a strong action verb that keeps the hiring manager reading
Use hard numbers in each bullet point to provide context for your successes
Write 3–4 bullet points for each role
Previous Job Title
Company Name | City, State | Month, Year–Month, Year
Use the past tense to write bullet points describing previous jobs
List up to 15 years of work experience on your resume to prevent age discrimination
Use your bullet points to show how you applied your skills
Keep each bullet point to one or two lines so the hiring manager isn't overwhelmed reading your resume
Education
Degree/Diploma Name
Institution, City, State
Year of Graduation
Additional Skills
List your skills, prioritizing any skills mentioned in the job ad if you have them
Group similar skills under one bullet point (for example, any coding languages you know)
Include both hard and soft skills to show hiring managers your skill set is diverse
Ready to make your resume? Here's how to write a resume step by step.
How to write a resume from start to finish
Writing a resume is straightforward. Here's how to create a resume yourself if you've never written your own or need a refresher:
1. Set up your resume formatting and style
Start your resume by opening a new document in your preferred word processor (like Microsoft Word, Google Docs, or Apple Pages). Then use the following resume formatting:
set ½"–1" inch margins on all sides
make sure your page is set to US Letter size and portrait orientation
select a professional font for your resume, such as Arial or Helvetica
adjust your font size between 10 and 12 points
This formatting is the default in Microsoft Word, so you shouldn't need to adjust anything if you're starting with a new document.
Adding style to your resume
After formatting your resume, you need to land on a style.
Your resume's style includes all the aesthetic details like:
the font you pick
whether or not you use a sidebar
how you set up your headers
For formal industries like law, finance, or politics, you should stick to a simple, traditional resume style. Clean lines, no graphics, and dark colors like navy blue or burgundy are most appropriate.
However, if you want a job in a more creative industry like tech or marketing, you should use a more modern resume design. Modern resume designs include brighter colors, sans-serif fonts, and graphic details like visual skill levels or sidebars.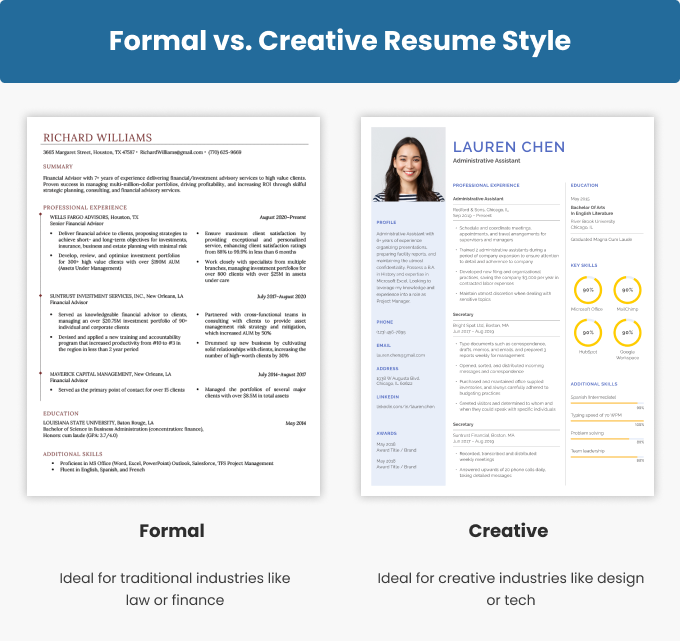 2. Pick a resume layout
There are three main resume formats most job seekers use today. Each format is structured to help you lay out and emphasize different parts of your professional background.
Those three formats include the chronological resume, the combination resume, and the functional resume.
The right format for you depends on your work history, the job you're applying to, and your skillset.
Chronological format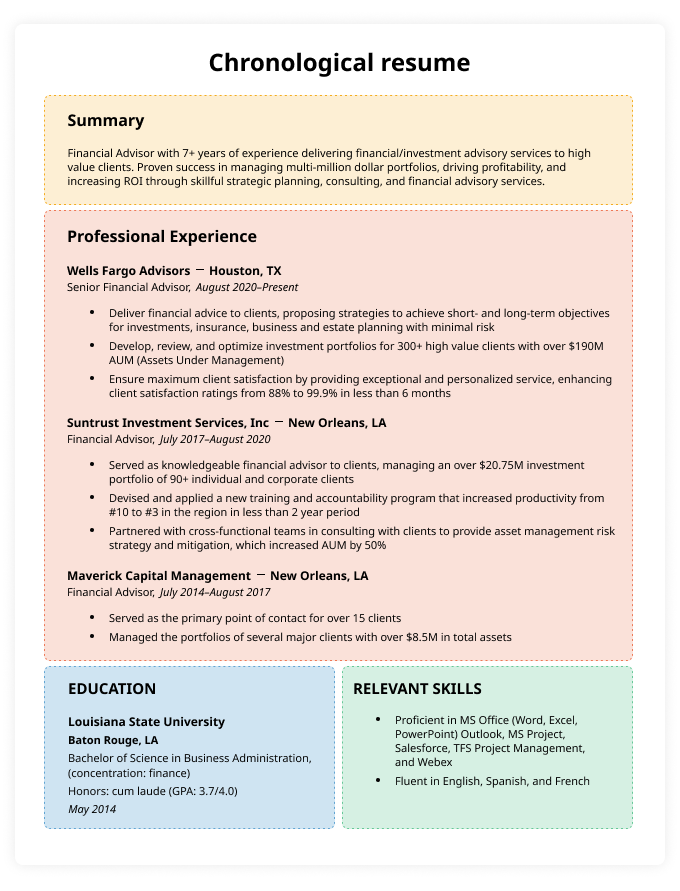 Most job seekers use the chronological resume format. This format is probably the best choice for you if you're just starting your career, or have a consistent work history within a single industry and have no long employment gaps.
Chronological resumes place your work experience as the primary focus of your resume, and list each job according to when you held it (with your most recent position at the top).
Hiring managers want to be able to see how your career has progressed over time, and the chronological format communicates that information quickly and clearly.
Functional format
A functional resume (or "skills-based" resume) focuses on your relevant skills rather than each job you've held.
Instead of listing your work history, the functional resume format lists several broad skill categories. Bullet points under each category provide supporting examples that illustrate you actually have those skills.
Functional resumes are ideal if you want to draw attention away from your work history. This format is useful if you have large employment gaps or are writing a resume for a career change.
Combination format
As its name suggests, the combination resume format (otherwise known as a hybrid resume) mixes the most significant features of both a chronological and functional resume.
Combination resumes include a long skills section with categories, similar to a functional resume. They also have a detailed chronological work experience section.
You may think all of these skills and experiences are a lot to fit on the page – and they are. Combination resumes were designed for candidates with a lot of experience and a well-developed, specialized skill set to showcase.
3. Add a resume header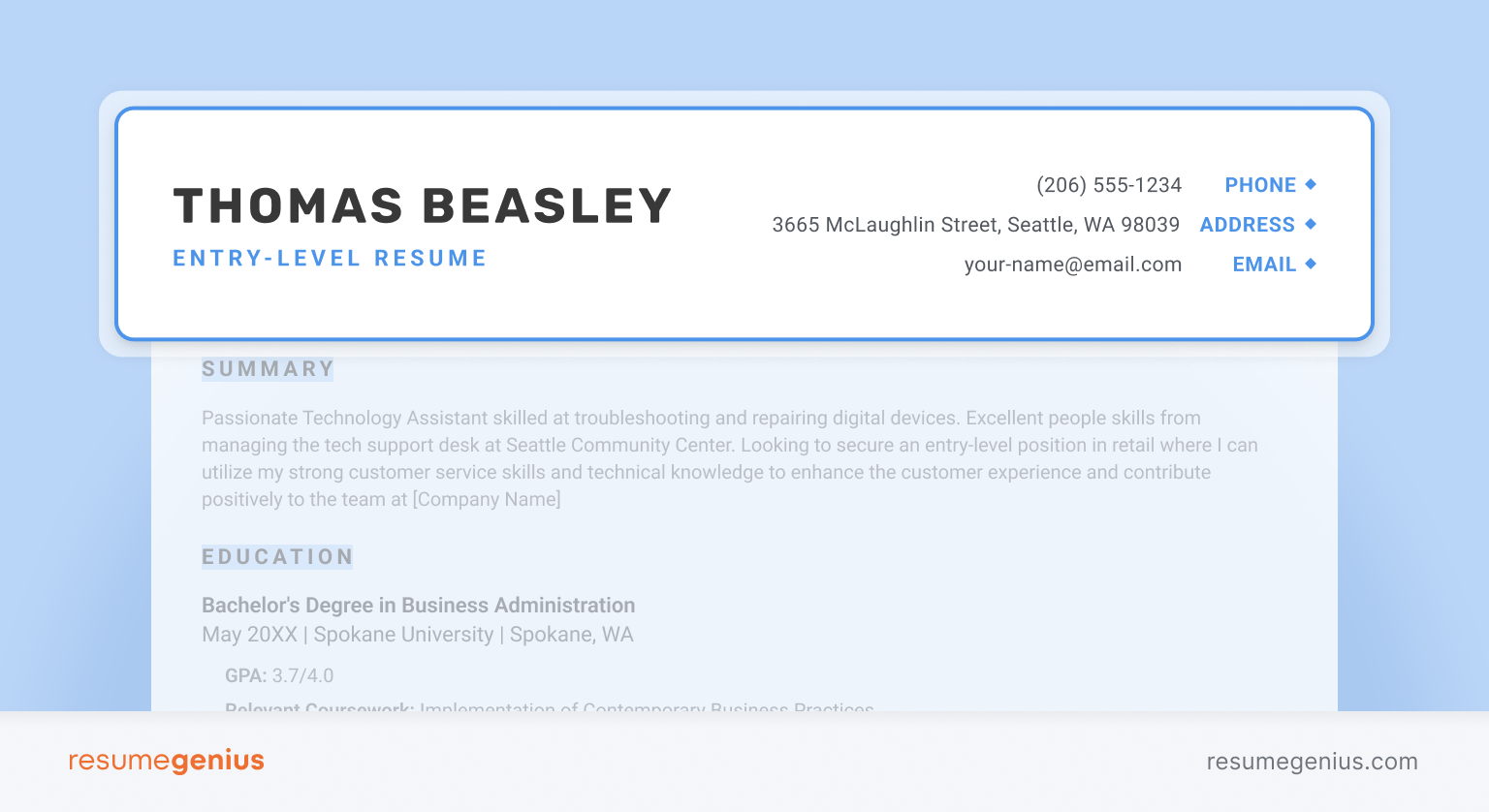 You've landed on a style and format for your resume. Now it's time to dive into what really makes your resume stand out: the written content.
Your resume should feature an eye-catching resume header at the top of the page to quickly highlight your contact details for hiring managers.
A resume header needs to include your:
name
email address (use a professional one like firstname.lastname@gmail.com)
phone number
You can also add these optional details:
an online portfolio or website (if relevant to the job)
your LinkedIn
your mailing address (if you want to show you're a local)
a resume headline (a subtitle that describes your experience)
4. Start your resume with a summary or objective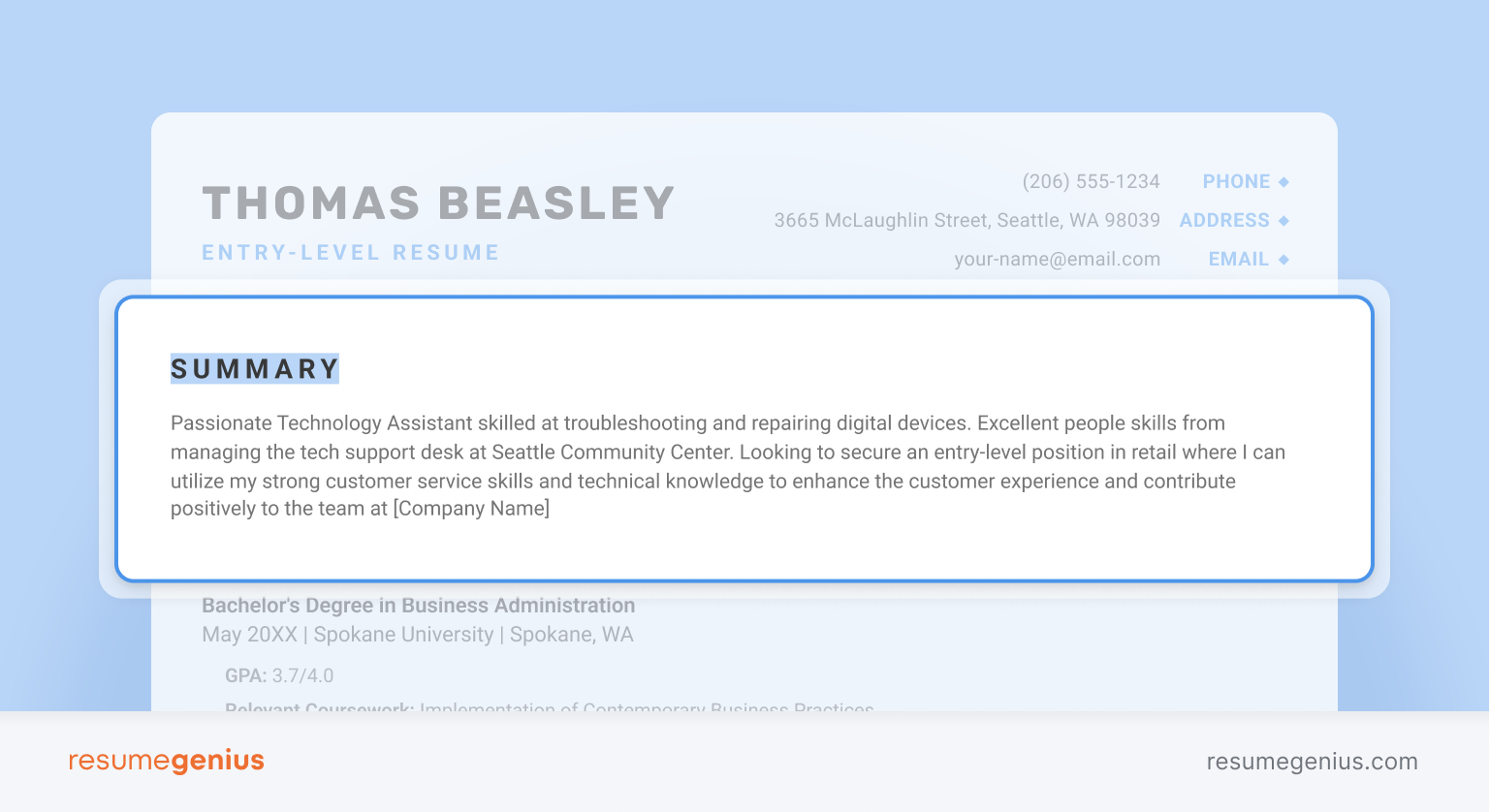 Hiring managers, especially those at large companies, have many applications to review for each job opening. With so much competition, it can be tough to make sure your resume gets the attention it deserves.
To stand out to the hiring manager, your resume needs to communicate why you're the right person for the job as quickly as possible. That's where a convincing resume introduction comes into play.
Your resume introduction provides a quick snapshot of your experience, skills, and qualifications at the very top of your resume. It should be 3–5 sentences, and can be written in either sentence or bullet-point format.
In 2022, most job seekers use the following types of resume introductions:
1. Resume summary
A resume summary is an introduction that highlights your most impressive professional achievements and skills.
Resume summaries are ideal for candidates with:
several years of relevant work experience
accomplishments that can be tied to actual numbers (which give context to those accomplishments)
Here's exactly how to structure a resume summary: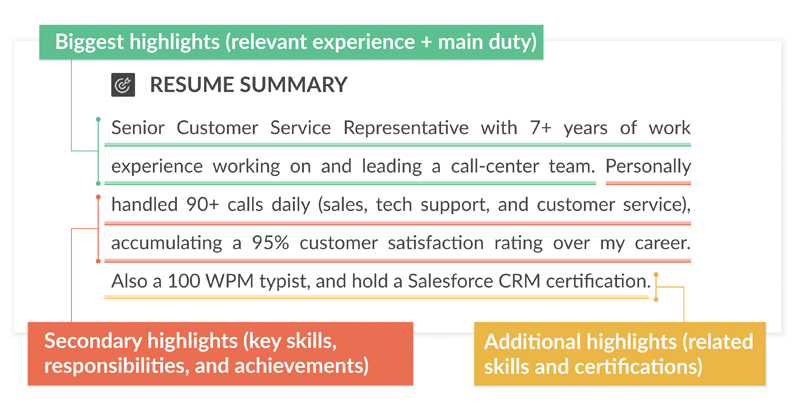 2. Resume objective
A resume objective focuses on your professional goals and career path, and how they match the company's goals. For this reason, a resume objective is ideal for candidates who:
have just graduated from school and lack professional experience
are writing a career-change resume or internal position
Here's the formula for putting together an effective resume objective: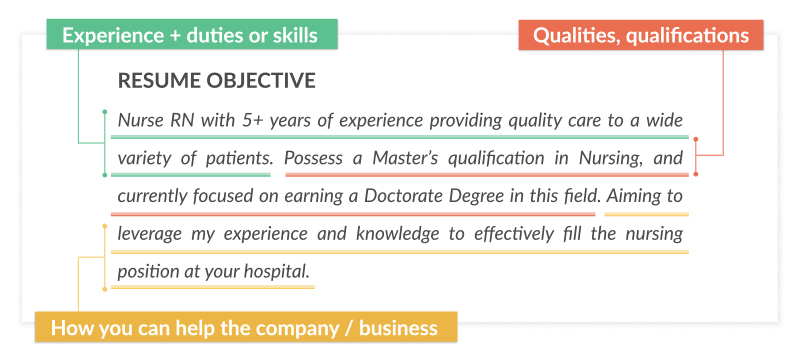 5. Target your work experience to the job ad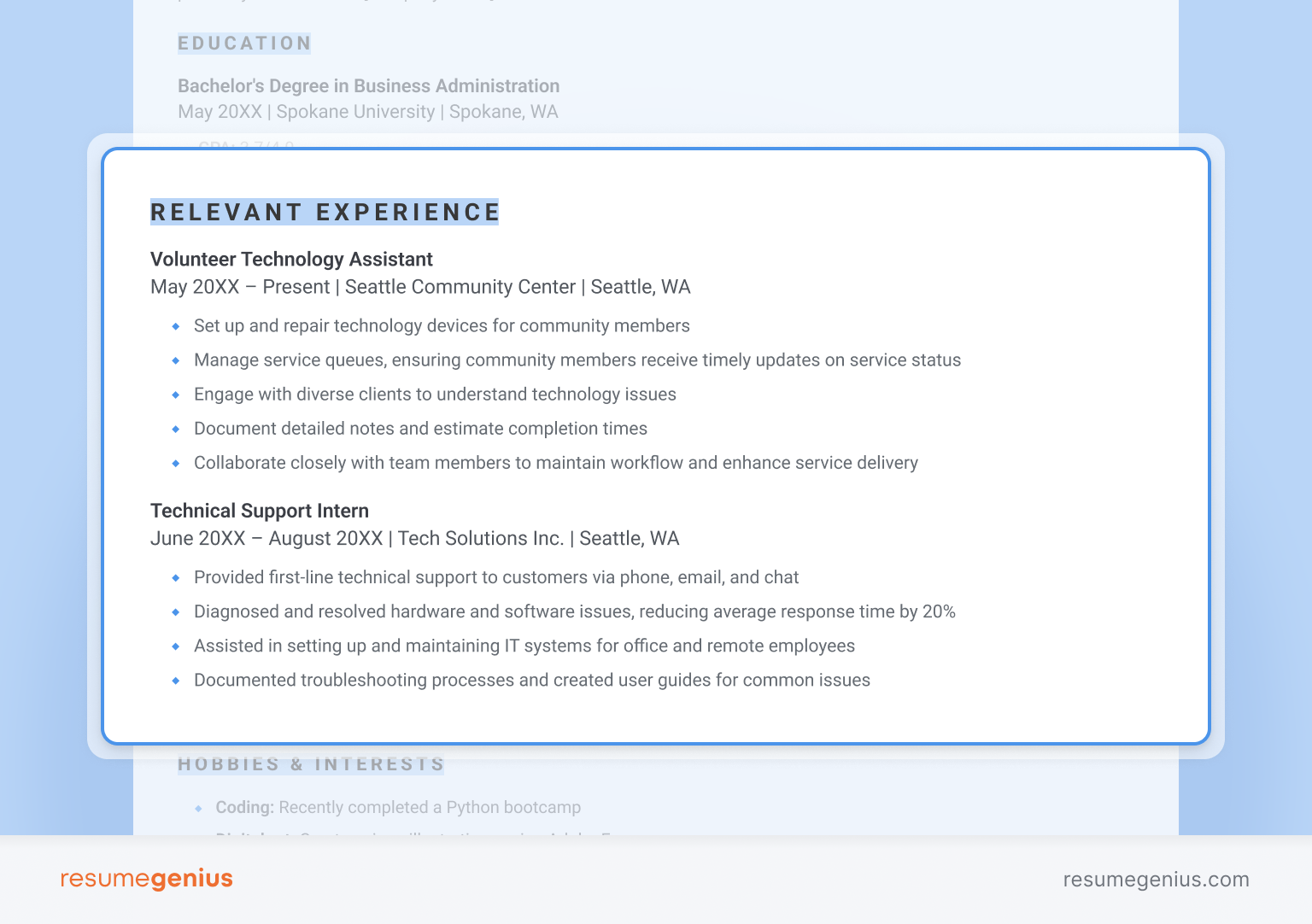 Next is your resume's work experience section, which many recruiters and employers are most interested in (so it's important to get it right).
For each work experience entry, list the following basic information:
How to list work experience on your resume
Job title – Dates employed (year and month)
Company name – Company location (city and state)
Three to five bullet points describing your achievements and responsibilities
Include hard numbers in your bullet points when possible
To make your work experience section shine, target each bullet point to the specific job you want. Look carefully at the skills mentioned in the description, and showcase any of those skills you have with clear examples.
To get an idea of how to find these relevant skills, here's an example of a marketing specialist job ad (with orange underlines for verbs and yellow for nouns/skills) courtesy of Indeed.com: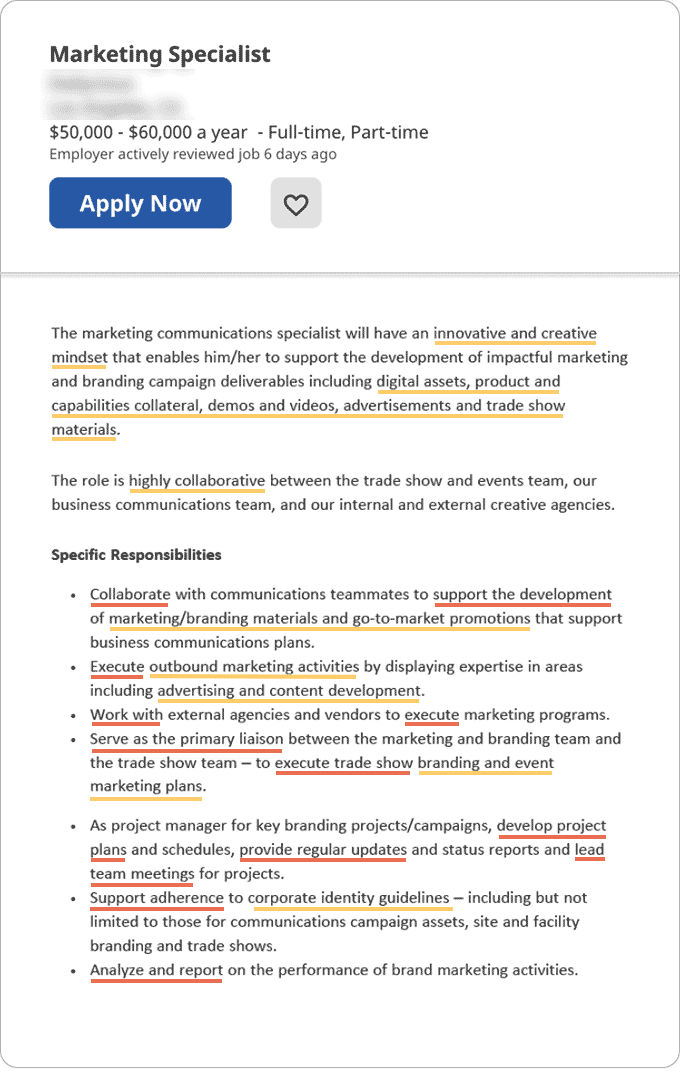 There are many clues about what the company wants from applicants in this job description. It's up to you to capitalize on them.
Here's what you might write to respond to this job ad in your marketing resume:
Taylord's Marketing Firm, Reno, NV
July 2017 – August 2018

• Collaborated with the outreach department to develop innovative marketing solutions for 6 unique products

• Developed branding materials for a new mobile app, resulting in a 14% increase in sales

• Analyzed weekly performance statistics, ensuring that effectiveness of outbound marketing activities
Not only does tailoring your experience section to the job ad make your resume more attractive to employers, but it also helps you get through the applicant tracking system (ATS) software that many large companies use.
ATS software automatically scans your resume for specific skill-related keywords to determine if you're qualified for the role. If the software doesn't find the keywords it's looking for, it automatically rejects your application before a hiring manager even gets to see it.
6. Use numbers & action verbs throughout your resume
Many job seekers make the mistake of simply listing past responsibilities in their experience section and resume introduction. Phrases like "responsible for" and "tasked with" are technically correct, but they don't do a good job of explaining what you accomplished at work.
To make a resume better than those job seekers, instead focus on your achievements, complete with hard numbers that illustrate the impact of your work.
Here's a comparison of two work experience bullets. The first bullet doesn't use numbers and lacks accomplishments, while the second bullet provides an achievement and related number:
Doesn't use numbers or action verbs
Responsible for making media kits for company projects
Uses numbers and action verbs
Spearheaded the development of the first media kit for all company projects, increasing annual revenue by 12%
There are two reasons this second bullet point is effective:
It starts with a strong resume action verb. Action verbs catch the hiring manager's eye and make you seem proactive and responsible. Start all of your bullet points with an action verb to make your application stand out.
The candidate includes a hard number. Hard numbers provide context to your accomplishments and show hiring managers what you can achieve for their company if hired.
Looking for hard numbers for your resume? Answer these questions
How much cash did you handle every day?
How many customers did you help per day?
How many emails did you send out each week?
How have you helped increase profits or reduce losses?
What positive feedback rating have you received from your clients or students?
If you haven't already, consider creating a Google Sheet that tracks the achievements you make at your job.
Then next time you want to send out a resume, you can reference these specific numbers to make more compelling work experience bullet points. Such specific information gives you a better chance of standing out to hiring managers and eventually getting hired.
7. Showcase your skills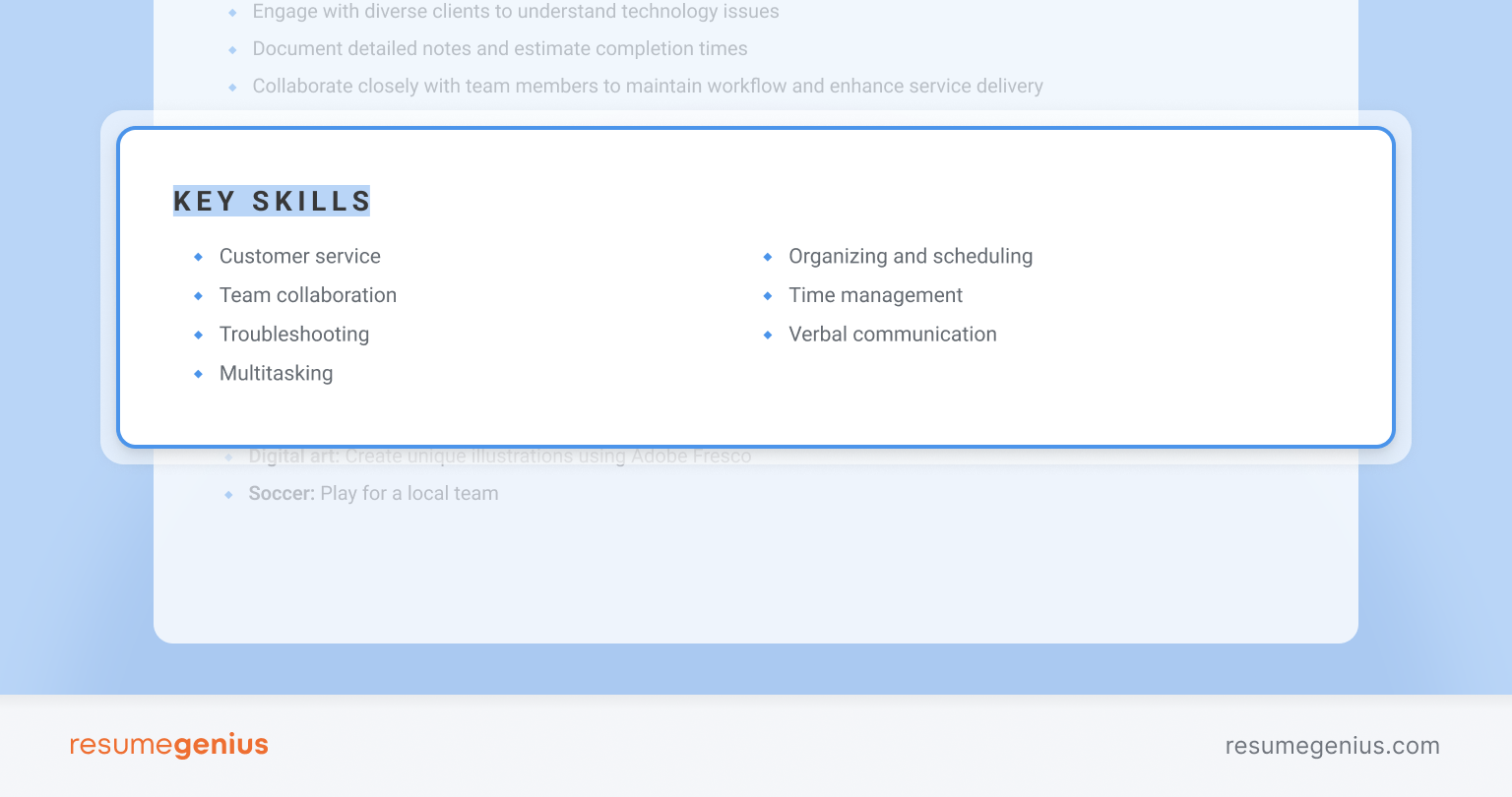 Your key skills should be prominently displayed in your resume's skills section to give employers an at-a-glance view of the hard and soft skills that qualify you for the role.
Hard skills are learned through specific training, workshops, work experience, or school and include the skills you need to operate equipment at work (like point-of-sale systems).
24 Hard Skills for Resumes
| | |
| --- | --- |
| Accounting Tools (SAP, Oracle, etc.) | SEO & SEM |
| HTML / CSS | UX / UI Design |
| Bookkeeping | Java Development |
| Business Intelligence | Mac, Linux, and Unix Systems |
| Perl / Python / Ruby | Vulnerability Analysis |
| Content Management Systems (CMS) | Data Engineering and Data Warehousing |
| Adobe Creative Suite | Database Management and Software |
| Cloud Apps (JSON, Rest, etc.) | Automotive Services |
| Statistical Analysis and Data Mining | Public Speaking |
| Foreign Languages | Software Development |
| Software QA and User Testing | Data Presentation |
| Web Architecture | Technical Reporting |
Soft skills relate to your personality, and you develop them by simply dealing with people and daily tasks while at work. Organizational skills like coordination and self-management are good examples of soft skills valued by employers.
24 Soft Skills for Resumes
| | |
| --- | --- |
| Organization | Self-motivation |
| Discipline | Responsibility |
| Logical reasoning | Open-mindedness |
| Persistence | Decision making |
| Initiative | Integrity |
| Commitment | Professionalism |
| Teamwork | Time Management |
| Empathy | Stress management |
| Patience | Cultural intelligence |
| Diplomacy | Trust |
| Focus | Versatility |
| Self-starter | Critical observation |
Include a mix of hard and soft skills on your resume to show employers you have a balance of technical savvy and the ability to work well with colleagues and clients.
Other places you can highlight your skills
Don't limit your skills to your skills section. Expand on each skill in your resume introduction and work experience bullet points.
For example, if you list Spanish as a key skill, you can talk about how many customers you served in Spanish during a previous position on a server resume.
Additionally, soft skills should be demonstrated with examples in your experience section, rather than listed in the skills section of your resume. That's because soft skills are difficult to measure without context, and tell employers very little about your actual abilities.
Measure or rate your skill level
You're likely not an expert at every skill you list on your resume. So how do you communicate your exact level of proficiency to employers?
For hard skills like Photoshop or languages, consider adding an indication of your level of expertise. This indication can either be written or a visual graphic like a skill bar or graph.
Here's an example of a visual way you can communicate your skill levels: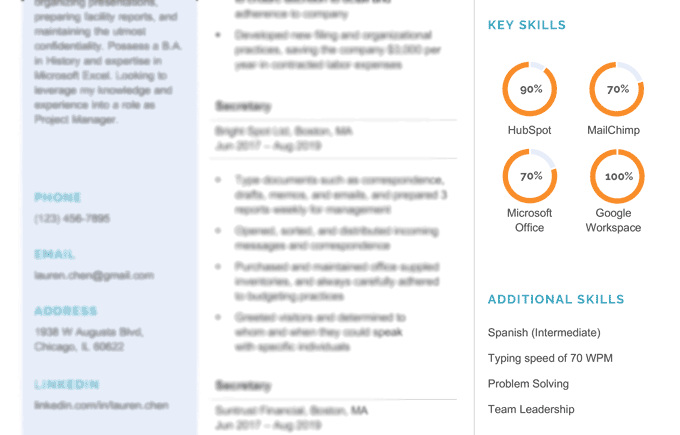 Want to use a written measure of your skills? Try out this basic scale to explain how proficient you are in a particular skill:
Beginner: you have some basic knowledge but need further training and guidance to become skilled.
Intermediate: you have a strong knowledge base but still need further practice and some supervision or guidance.
Proficient: you can work independently on projects, completing them efficiently and to a high standard. When referring to languages, you're able to converse with relative fluency.
Advanced: you have complete mastery of a skill and deep knowledge. You practice your skill with ease, and teach and train others.
8. Write out your education details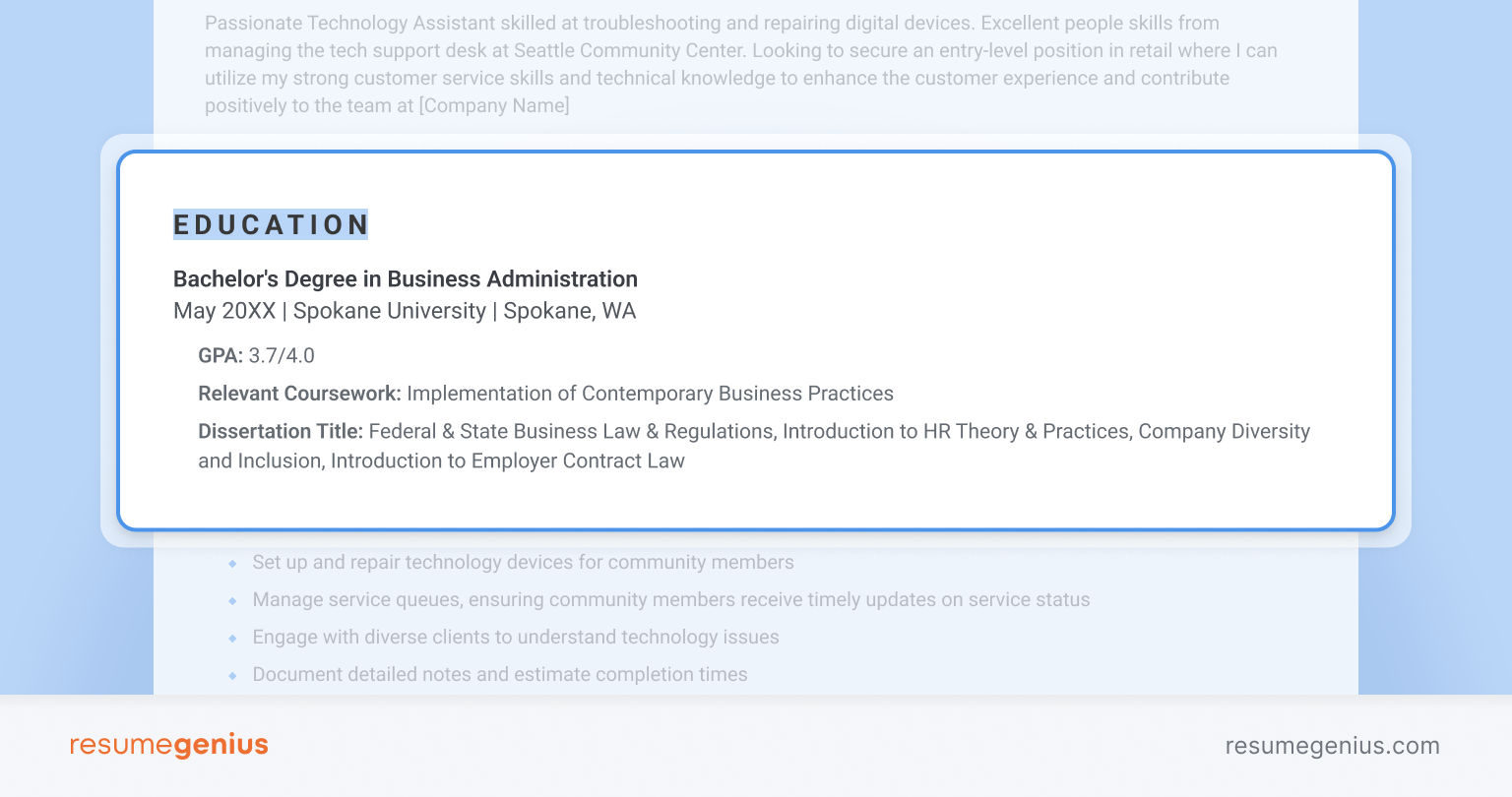 Your education section should normally come after all of your work experience, but you can place it first if you've never held a full-time job or you're currently a student.
An effective education section on a resume includes only your highest degree. If you didn't go to college, add your high school diploma instead.
Here's what to include in your education section:
How to list education on your resume
Your degree name
The name of the college or high school (and its location) – Your graduation date (if it's within the last 15 years)
Your GPA (if higher than 3.5)
You can also add any relevant coursework to your resume if you think it addresses the job ad and the company's needs, or if you're a recent graduate writing a resume.
This is an example of a resume education section for a job seeker who graduated in 2020 (so it includes more details than you might see on an experienced professional's resume):

9. Add any additional relevant resume sections
Depending on your experience and background, consider adding optional resume sections. For example, certifications and awards are great if they're relevant to your chosen career, while hobbies and volunteer work are useful if you're writing a resume with no experience.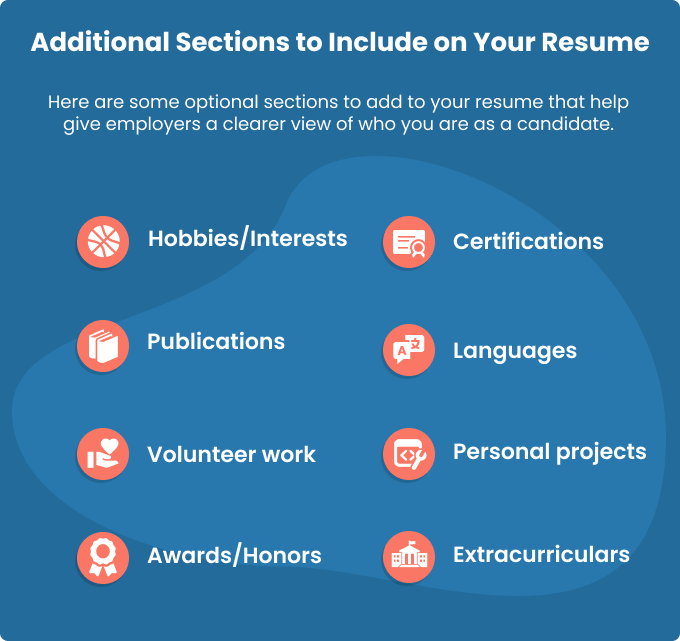 Here are some common optional sections you can add to your resume to give hiring managers a more complete view of you as a candidate:
Hobbies and interests
Although they're unlikely to sway an employer's final hiring decision, adding hobbies and interests to your resume helps show off a bit of your personality and can make your resume stand out.
Additionally, mentioning your hobbies could show hiring managers that you're a good culture fit for the job.
For example, if you're applying for a job at a sporting company like REI, highlighting your passion for camping or fishing is a great way to show that you'd fit in with the other employees and are personally invested in the company's mission.
Volunteer work
Passionate about volunteering? Putting volunteer work on your resume is a great way to show employers you're engaged with your community and are interested in more than just a paycheck.
Also, volunteer work is a good addition to your resume if you lack work experience because it shows you have a strong work ethic and are able to commit your time to something.
If you're a recent graduate or are just starting your career, be sure to include any volunteer experience you have on your resume.
Certifications
If you're applying for jobs that require specific certifications to get hired, you should add a section to your resume clearly highlighting that you have them.
For example, if you work in education, construction, or engineering, you likely have more than one professional certification. In these fields, it's a good idea to add a certifications section to your resume.
Awards and honors
Whether you've been named "Employee of the Month" or received formal recognition from a professional association, awards and honors make a great addition to your resume.
Awards show employers that you were highly successful in your previous role, and help you stand apart from other applicants.
Publications
If you work in academia, writing, or law, you've likely published some work under your name, either online or in an academic journal.
Adding a section for publications on your resume shows off some of your relevant work to employers and gives them a reference for the quality of your writing and research.
Languages
Do you speak three or more languages? Creating a dedicated section for languages on your resume is a good way to show off your skills as a polyglot.
Being able to speak foreign languages is helpful for many different careers, but you should only add a dedicated section for them if you're applying for a job where speaking in different languages is highly relevant.
Personal projects
If you're someone who's worked on multiple personal projects, including them on your resume shows employers that you're passionate about your work and able to motivate yourself.
For example, if you spent a year independently developing an app or game, including programming projects on your resume shows off your accomplishment to employers and helps explain any gaps in your work experience.
10. Proofread your application (several times)
Finished writing your resume? Don't just fire it off straight away.
Spend some time reading through it at least a couple of times. You'd be surprised how easy it is to make a typo and how hard it is to spot them in your own writing.
You should also give your resume to a friend or relative to read through so they can help you cut down on common resume writing mistakes.
Software tools you can use to check your resume for grammar or spelling mistakes include:
To help make the proofreading process easier, here's a checklist you can tick as you complete it:
The Resume Genius Resume Checklist
Is your contact information accurate?
Does your resume NOT include details like headshots or sensitive personal information?
Does your resume fit on one page (or two pages if you're highly experienced)?
Is your information easy to read (fonts are above 10pt, sections don't look too crowded)?
Is the design of your resume appropriate for the position you're applying for?
Did you include all relevant sections on your resume?
Did you include quantified achievements in your work experience section?
Does your resume address the requirements stated in the job ad?
Is your resume free of typos and grammatical errors?
Is all of your information clearly formatted and professional?
Feel free to use our on-page checklist, or make a copy in Google Docs and begin reviewing your resume.
11. Save your resume as a PDF
When you're sure your resume is finished and you've checked for errors, you can save it. The best option is to save your resume as a PDF. PDFs save your formatting even if you use fonts that aren't installed on the hiring manager's computer, so they'll appear exactly as you want them to appear.
However, if the job ad specifically asks for your resume in Microsoft Word (DOCX) format or some other format, follow those instructions.
Once you've saved your resume, keep it somewhere on your computer. If you're called into an interview, you can then print out hard copies to hand to your interviewer. You can also refer to your resume if you're writing one for a similar job opening in the future.
2 great resume examples
Here are a couple examples of well-written resumes you can use as inspiration when you make your own.
Entry-level candidate
This college student does a great job showing off the qualities that make them a valuable candidate on their entry-level resume: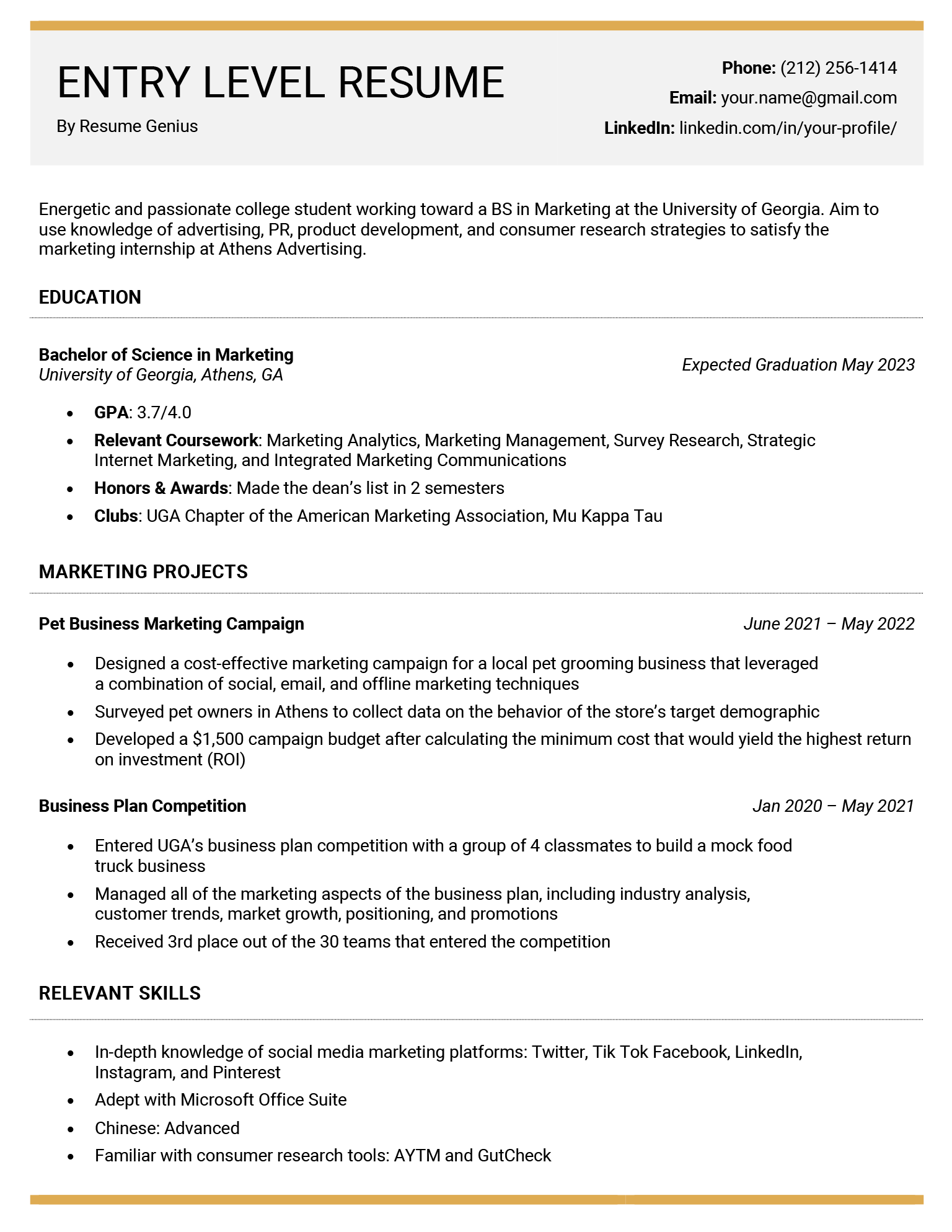 Experienced candidate
This experienced project manager successfully highlights their skills and expertise on their resume: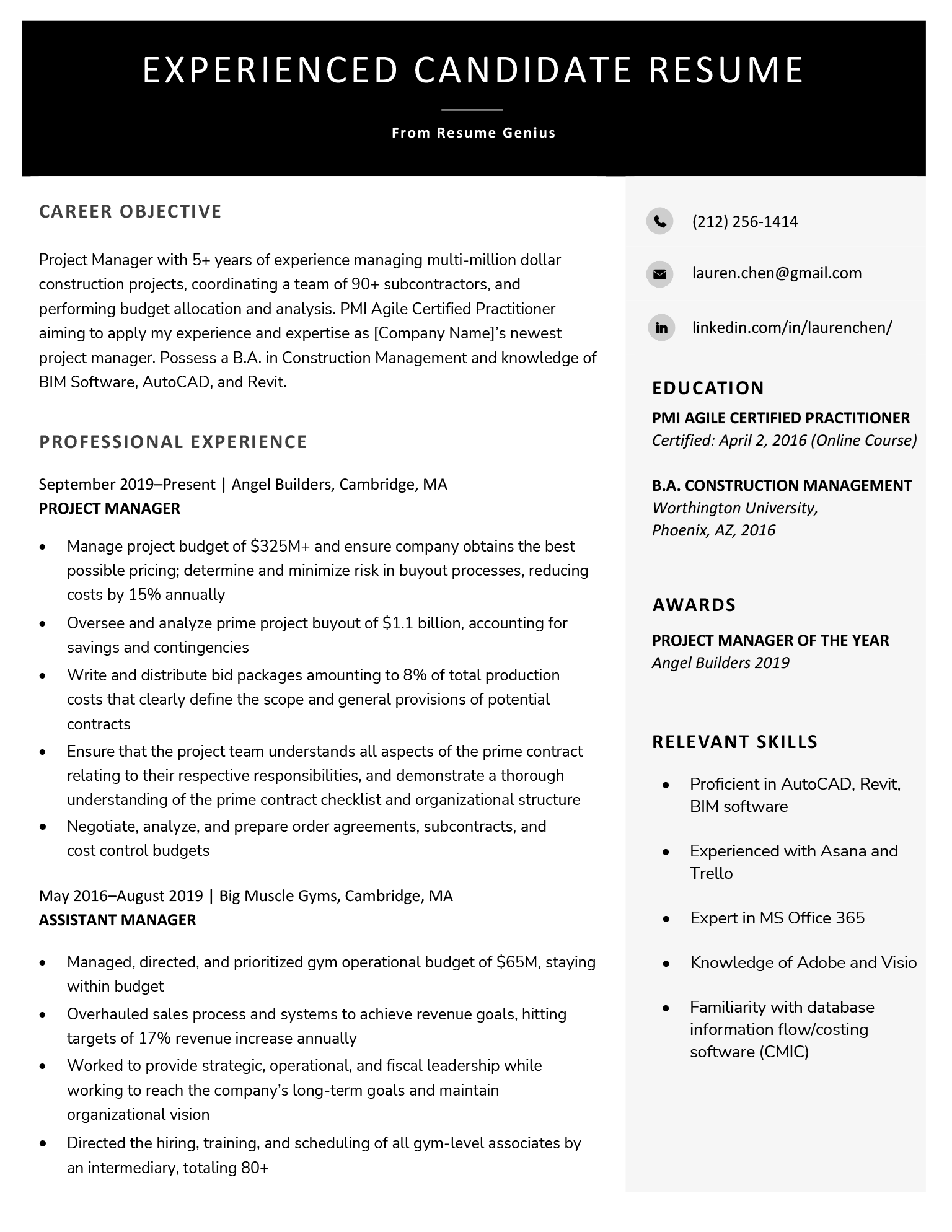 Pair your resume with a convincing cover letter
Now that you've put the finishing touches on your resume, it's time to start sending it off to employers, right? Not just yet.
No job application is complete without writing a cover letter first.
While your resume shows your work history and skills, your cover letter explains your passion for the job and how your experience makes you qualified for that specific role.
In other words, your cover letter is your opportunity to convince the hiring manager that you're the ideal person for the job.
Without going into too much detail, here's how to write a strong cover letter for your resume:
How to write a cover letter for your resume
Introduce yourself and explain how you found the job
Address the hiring manager by their name (if you can find it). Then, introduce yourself and how much experience you have, as well as where you found the job.
Open with an attention-getting introductory paragraph
Briefly explain what attracted you to the job ad and why you're passionate about the opportunity. Your introduction is also a great place to summarize why you think you're a good fit for the role.
Explain why you're qualified for the job in your body paragraphs
In one or two body paragraph(s), highlight your previous experience and accomplishments. Only include experience that's directly relevant to the job you're applying for.
Connect your experience with the job requirements
After providing an overview of your previous achievements, add an additional paragraph connecting your experience to the needs of the company. This paragraph should make it clear what you can do for the new company if you're hired.
End with a confident closing paragraph
Briefly recap why you think you're qualified for the job. Then, state your availability and tell the hiring manager that you're available for an interview.
Thank the hiring manager and politely sign off
Let the hiring manager know you appreciate their time, and then use a formal sign-off such as "Sincerely" and write your name.
Here's a cover letter example to see what this looks like in action:
Additional resume writing resources
In addition to our resume making guide, we also have many other resources to help you build a competitive job application (no matter your industry or level of experience):
Resume making FAQs
If you still have some questions or concerns about writing your resume, here are commonly asked questions about resumes that we've answered in greater detail: