Cover letters aren't always required when applying to a job, but many companies use them to evaluate your skills, passion, and experience.
To maximize your chances of getting an interview, you need a well-written cover letter that makes a strong positive first impression on employers.
But writing a great cover letter is easier said than done, especially if you lack work experience.
Regardless of where you're at in your career, we're here to help you write the best cover letter possible. We concisely answer the question "what is a cover letter", explain its purpose, provide some cover letter resources, and show you how to write a good cover letter for a job in seven simple steps: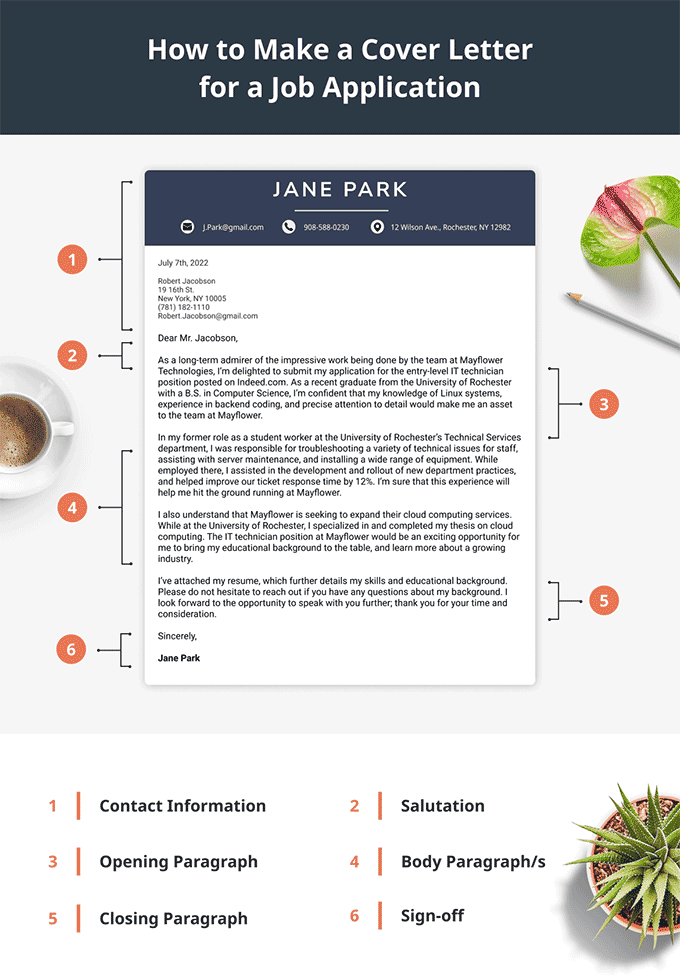 What is a cover letter?
A cover letter is a one-page document that you submit with your resume to express your interest in a job opening. The purpose of a cover letter is to introduce yourself to an employer and provide a brief overview of your work history, professional skills, and an explanation why you're the best fit for that job.
While your resume focuses on your qualifications and achievements, your cover letter expands on those achievements, showcases your personality, and explains why you'd be a good fit for the company.
Cover letter example
Here's an example of a cover letter that includes all the necessary information: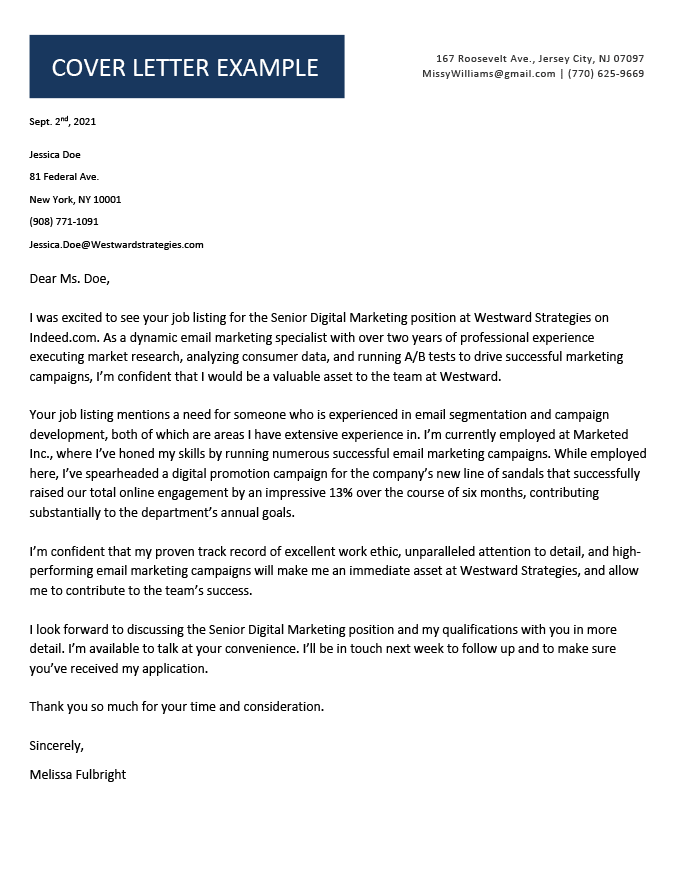 How to write a cover letter that gets you the job
Here's how to make a great cover letter for a job application:
1. List your contact information (and the employer's details)
Underneath your name in your cover letter header, list the following contact details:
First and last name
Email address (something professional, usually including your name)
Phone number
Mailing address (optional)
Linkedin profile link (optional)
Portfolio or website (optional)
After your header, include the date and following company contact information:
First and last name of the person you're writing to, or the relevant department
Company address
Company phone number
Hiring manager's email address
Here's an example of how contact details are formatted on a professional cover letter: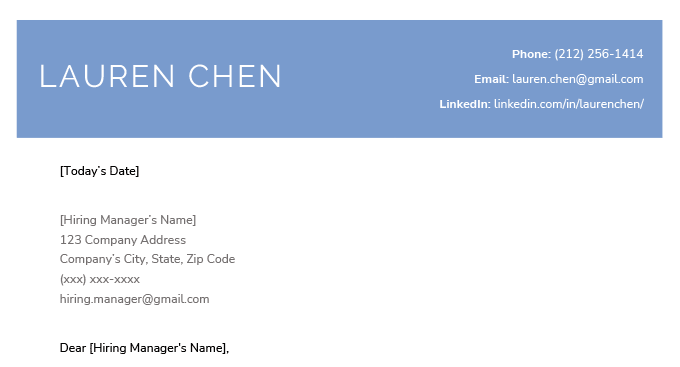 2. Address the hiring manager (ideally by their name)
Next, address your cover letter to the hiring manager by name if possible. A standard cover letter salutation includes the hiring manager's first and last name, and begins with a "Mr.", "Ms.", or another relevant professional title.
If you don't see the hiring manager's name listed in the job ad, don't worry. You can easily find out who to address your cover letter to using the following methods:
Ways to find the hiring manager's name
Search the company on LinkedIn and click on "People"
Explore the company's website (specifically their "About Us" or "Team" page)
As a last resort, contact their human resources department and ask
However, if you absolutely can't find the hiring manager's name, using a generic greeting like "Dear Hiring Manager" or "Dear Sir or Madam" is considered acceptable by most HR professionals.
Here are some examples of proper cover letter greetings:
Opening salutation examples
Dear Jane Smith
Dear Ms. Smith
Dear Accounting Department
Dear [Company Name] Recruiter
3. Write an attention-getting opening paragraph
Start your cover letter with an informative, direct introduction by including the following details in the first one or two sentences:
Job position: The title of the advertised position
Company name: The name of the company you're applying to
How you discovered the opening: Whether you saw the job on LinkedIn, a job board, or were recommended to apply by a friend
Intention to apply: An enthusiastic announcement that you're applying for the open role and why you're interested in or qualified for it
Notable accomplishments: If you have relevant work experience, highlight one or two of your most notable achievements in your introduction to immediately grab the employer's attention
Here's an example of a cover letter opening paragraph that effectively introduces the applicant:
You can also make your introduction even more attention-grabbing by adding a bit of personality, passion, or by including a major career highlight. Don't be afraid to let some of who you are as a person shine through in your cover letter.
Just be sure to strike the right tone for your industry or field. For instance, if you're applying for a job in law or finance, keep your writing formal.
4. Explain why you're qualified for the job
Your second and third paragraphs should make a convincing argument you're the right person for the job by discussing your relevant work experience, skills, and achievements.
Here are some things to include in your cover letter that highlight your value to an employer:
Professional achievements: Did you exceed targets for production, sales, revenue, profit, customer satisfaction, or any other business objectives?
Professional praise: Have you received compliments from management or colleagues for your work?
Professional awards: Have you received awards for your work, like "Employee of the Month"?
In the following example, we've color-coded the achievements, praise, and awards with underlining to show you how to include each in your cover letter. Note that including bullet points on your cover letter is one way to quickly demonstrate your skills:
5. Relate your experience to the company's needs
Begin to close out your cover letter by restating your interest in the job and explaining how your experience fits into the needs of the company.
For example, if you're applying to work at a company that's seeking to break into a new market that you have experience in, you should highlight this experience in your writing.
If you're not sure what the goals or needs of the company are, find out by doing some general research online. Take note of what products or services they offer, what their work culture is like, or if they have any future goals.
Here's an example of how to write this part of your cover letter:
6. Finish with a concise closing paragraph
When writing your cover letter closing, be polite, confident, and continue to market yourself as the best candidate for the job. Here's how to write a convincing final paragraph for your cover letter in three steps:
Restate your excitement about the job opportunity
Politely ask the reader to send you an invitation to interview
Thank the hiring manager for reviewing your application
Here's an excellent cover letter closing example:
6. Sign-off ("Sincerely," and your name below)
Finally, wrap up your cover letter with a professional closing salutation:
7 cover letter sign-offs to use
Sincerely
Best
Regards
Thank you
Respectfully
Kind regards
Best regards
Then, make two spaces below the salutation, and type your full name.
2 professional cover letter examples
Use these two great cover letter examples as a reference when writing your own cover letter:
Entry-level cover letter example
Here's a cover letter example from an entry-level candidate without much professional work experience:
Download This Cover Letter Example
Experienced cover letter example
And this example is of a good cover letter from a candidate who already has built up some professional experience in their career: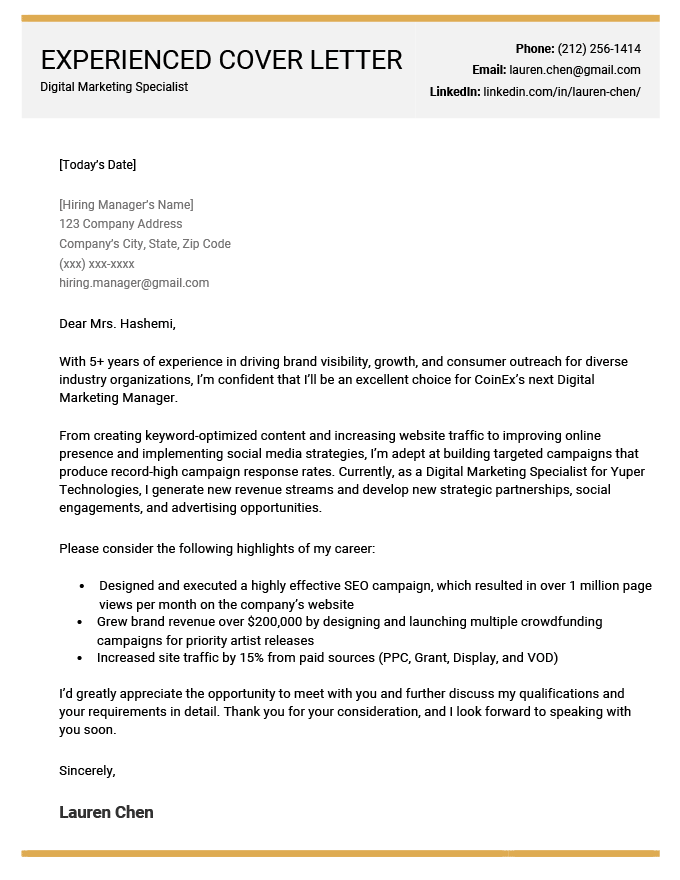 Download This Cover Letter Example
Reviewing your cover letter
Before you send off your newly written cover letter, you should review it. Here are a few extra things to consider to make sure your application is perfect before you send it out:
Double-check your cover letter formatting
A professional cover letter is normally 200–350 words, single-spaced, and uses either US Letter (USA) or A4 (Europe and elsewhere) page size. It should be typed with a standard cover letter font like Arial or Calibri, and the font size should be between 10.5 and 12 points (just make sure it's readable).
Additionally, your cover letter margins should be between 1″ and .5″ on each side to ensure it's easy to read. And all of the content should be left-aligned except for your own contact details, which can be centered.
Your cover letter's format won't win you the job, but it can lose you the job if done haphazardly.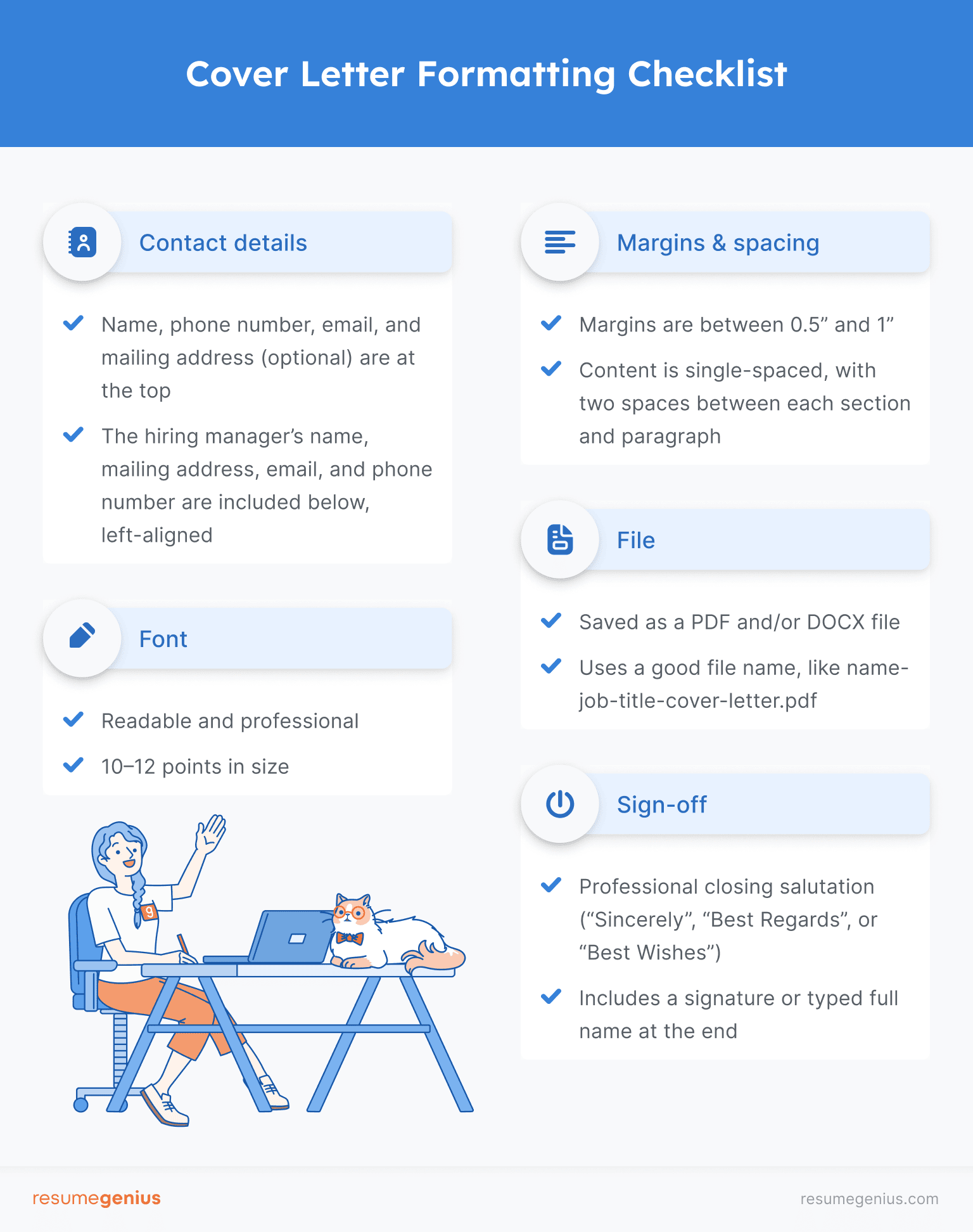 Adjust your writing tone (if necessary)
A classic cover letter writing mistake is to write long sentences with highly formal wording. Unless you're applying for a job in a traditional industry (like law or politics), your cover letter shouldn't be too stiff because people might get the wrong impression of your personality.
Ideally, your cover letter should be easy to read, confident, and friendly.
To instantly improve your writing tone, try:
Using contractions, like "don't" instead of "do not"
Avoiding overused buzzwords and phrases like "dynamic," "thinking outside the box," and "go-getter"
Choosing simple, unpretentious words like "helpful" instead of "advantageous"
Here's a comparison between a personable writing style and an overly formal one:
I'm thrilled to apply for the customer service position at [Company Name]. Having been a customer service representative for 5+ years at Walmart, I'm confident I can quickly apply my experience using Zendesk and Salesforce to make a positive impact on [Company Name]'s bottom line.
It is with great interest that I apply for the open customer service position posted by your company on Indeed. I possess the requisite skill set to ably perform the customer service duties described in the job requirements.
Carefully Proofread
No matter what industry you're applying for work in, having typos or grammatical errors in your cover letter will leave a negative impression on employers.
Here are two quick tricks professional editors use to catch sneaky mistakes and make good edits:
After you've read your cover letter out loud, have someone else read it over. They can provide helpful feedback like whether your letter is clear and well-argued, or vague and filled with cliches. They'll also (hopefully) notice small grammar and spelling errors you missed.
Cover letter resources
Here are some of our best cover letter guides and resources from across the website:
Cover letter templates
Over one million people have downloaded these three cover letter templates. Each one has a matching resume template.
Popular cover letter templates:
Additional cover letter templates
Cover letter writing how-to guides
Looking for more help on how to make a cover letter's different sections really shine? Try these four writing guides:
Types of cover letters
Cover letters are used in many situations. Create yours by getting ideas from examples that apply to your specific background and career goals:
Cover letter examples from different industries
Here are our top 10 most popular cover letter samples as voted on by our users. Each sample has a corresponding resume example.
Cover Letter Writing FAQs
And finally, here are some of our most notable cover letter FAQs (in case you're still looking for answers to your cover letter-related questions):