How to start a cover letter
How do you start a cover letter in a way that immediately grabs attention? Many hiring managers only spend a few seconds scanning your application, so the first paragraph of your cover letter is key if you want to maximize your chances of getting an interview.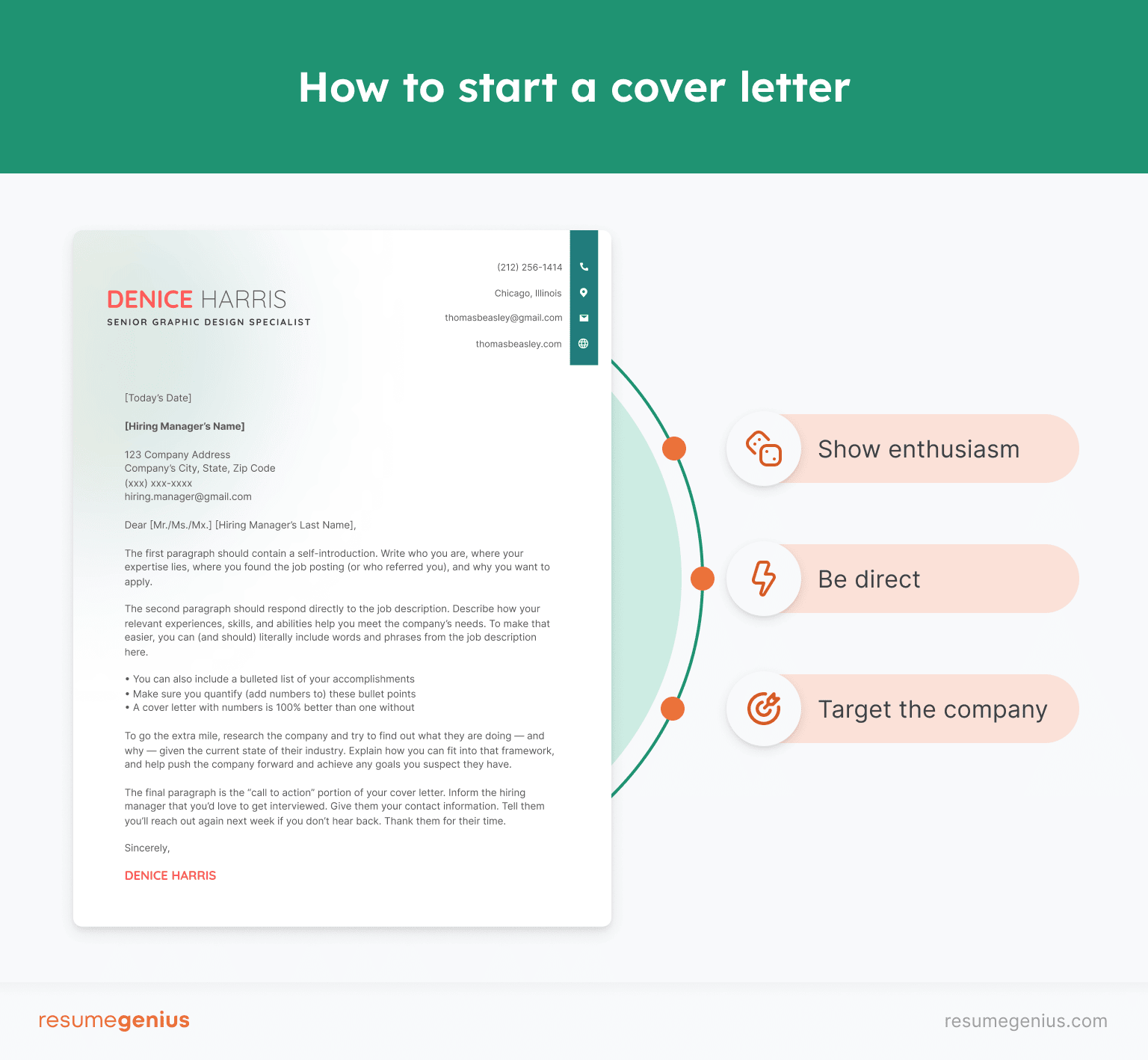 Craft a strong cover letter introduction
Knowing how to begin a cover letter in a way that draws positive attention is the first step to figuring out how to write a cover letter that will impress any hiring manager.
Hiring managers often have to pour over dozens of applications at a time. One way to make a good impression is to respect their time by writing a cover letter that gets straight to the point.
To get a hiring manager's attention, your cover letter introduction should include the following information in the first couple of sentences:
The position you're applying for
The company you're applying to
How you learned about the job opening
A statement expressing and explaining your interest in the position
Any outstanding achievements that highlight your qualifications
Additionally, to start your cover letter off strong, make sure that your introduction is:
Enthusiastic
Direct
Creative (when appropriate)
Focused on the company's needs
Achievement-oriented
Be sure to mention any mutual contacts if you have at the company as well. By making your cover letter opening hit the right tone, you can easily catch the attention of employers and improve your chances of getting an interview.
Consider your cover letter opening lines
Knowing what to write for the opening lines of your cover letter can be difficult because they'll often form the first impression employers have of you as a candidate.
The best cover letter opening lines are simple, direct, and informative. While it can be tempting to use cover letter starters that are unique and add flair to your application, you should make sure that your opening is appropriate for the company culture. Otherwise, you risk your cover letter coming across as unprofessional or gimmicky.
Here are 5 cover letter opening sentence examples to give you some ideas:
As a recent graduate of Western Michigan University with a degree in business-oriented chemistry, I was excited to see your listing on Indeed for a Marketing Associate at AMCOL Corp.
With 6+ years of K-12 teaching experience, I was thrilled to hear that you have an opening for a 4th grade teacher from John Marquez, who I worked with for several years at Whitman Elementary School.
As a cybersecurity expert with 3 years of experience in online banking systems, I am seeking a new opportunity and was intrigued by your job listing for a Cybersecurity Consultant.
As a responsible and organized NNA-trained notary, I am writing to apply for the Notary Public position with PRA Group listed on LinkedIn.
After speaking with my former colleague Mary Waltman about the open Real Estate Agent position at Weichert Co., I decided I couldn't miss out on such an exciting opportunity and am writing to express my interest in joining your agency.
The examples above are effective because they indicate precisely what position the candidate is seeking, as well as their relevant experience, qualifications, or connections.
Including informative details like this in the first sentence immediately gives employers a good idea of what makes you an ideal candidate, and encourages them to keep reading.
7 tips for starting a cover letter (with examples)
To help you learn how to open a cover letter in a way that stands out from the rest and lands you an interview, we've assembled seven essential writing tips.
1. Express enthusiasm for the role
Employers love candidates who are enthusiastic about their work. That's why one of the first things any hiring manager looks for in your cover letter is enthusiasm. Specifically, they want to see that your passions align with the responsibilities associated with the role.
Employees who are passionate about their work are likely to perform better, stay longer, and make a greater long-term contribution to the company.
To demonstrate your enthusiasm, use your cover letter's opening paragraph. Explain what draws you to the position, and how it fits into your career goals.
Example:
My senior year of high school, I saved up for nearly a year to buy the first generation Oculus Rift headset — my parents thought I was nuts. But ever since, I've been obsessed with the potential of virtual reality technology and have been thrilled to see its presence grow in our changing media industry. That's why I'm excited for the opportunity to put my passion for VR to work as an Engineer at NextGen VR Corp, and help build the future of virtual reality technology.
2. Show your excitement about the work being done by the company
If you're genuinely excited about a company's brand, their mission statement, or their products, highlight this excitement in your cover letter introduction.
Employers value candidates who are personally excited to contribute to a company's goals because it's a clear indicator that they'd be an immediate benefit to the team.
Example:
As a long-term admirer of the contributions to solar panel technology being made by the team at GreenWays Engineering, I'm excited to submit my application for the entry-level technician position. As a recent graduate from the University of Rochester with a B.S. in Environmental Engineering, I'm confident that my knowledge of PV systems, practical experience performing energy modeling assessments, and precise attention to detail will make me an asset to the team at GreenWays.
3. Impress employers with an accomplishment
The best cover letters demonstrate a candidate's expertise. So if you have experience in your field, start your cover letter by noting a professional achievement that demonstrates your expertise in your industry.
Draw a connection between the contributions you made at your previous job, and how the skills you learned there will help you achieve similar results in your next role.
By being upfront about your relevant accomplishments, you reassure employers that you're fully capable of performing the job.
Example:
I'm writing to you today to apply for the Senior Accountant role at Walker & Company I saw on Indeed.com. As an accountant with 6+ years of experience, I've honed my accounting skills and gained a variety of experience that I'm confident will help me contribute significantly to the team at Walker & Co. Last year while working for Smith Johnson & Sons, I balanced a $400,000 budget, while reducing costs by 20% for a client. Given the opportunity, I believe I can achieve similar results in the Senior Accountant role at Walker & Company, while further enhancing my expertise.
4. Mention a contact
If you were referred to the role by a former coworker, classmate, or friend, mention their name in the opening sentence for your cover letter.
Hiring managers are more likely to take your application seriously if you've been recommended by someone they already work with and respect. That's why referencing a mutual contact is one of the most effective ways to distinguish yourself from other applicants, especially if you're writing an entry-level cover letter.
In fact, according to LinkedIn 70% of people hired in 2016 had a connection at their new company, making networking the most effective way to get a job.
To see how to reference your contact effectively, here's a real-life example:
Example:
I was excited to hear about the open position of social media manager at StarWon from an ex-colleague of mine, Jennifer Henderson. We were on the same social media team at Turbofun for two years, where we worked on eight projects together. I've heard great things about the work being done at StarWon, and I'm confident that my skills and experience would be an excellent asset to your team.
5. Use humor or creativity (if appropriate)
Hiring managers come across dozens of generic cover letters every day. Injecting humor into your cover letter opening is an effective way to add personality to your application as well as catch (and maintain) the hiring manager's attention.
However, don't make your cover letter intro too quirky. Depending on the type of position you're applying for or the company you want to work at, a casual tone might come across as unprofessional.
Additionally, avoid making your cover letter opening longer than it needs to be. While creativity can help you grab attention, many hiring managers will find anything that exceeds standard cover letter length to be tedious.
So before adding humor to your cover letter, do some research about the company culture and decide whether a casual tone is actually appropriate.
Example:

As an online native who's obsessed (yes, obsessed) with the GoGourmet app, I was thrilled to see your listing for the Social Media Manager position at GoGourmet Studios. Before I started watching GoGourmet's content, I didn't know the difference between a ham steak and a lamb shank. While I still may not be much of a chef, I would consider myself something of a social media sommelier. With over three years of professional experience as an online brand manager under my belt, I'm confident my adaptability and hands-on branding experience would make me the ideal candidate to help GoGourmet expand their online presence and user base.
6. Demonstrate what you can do for the company
Ultimately, employers want evidence that you'll be able to contribute to their company. To catch their attention, use your cover letter opening lines to either highlight a problem you're confident you can tackle for them, or any specific hard or soft skills you bring to the table.
Example:
I'm writing to apply for the Software Engineer role at Jasper Development. With over five years of experience as a backend engineer, I'm confident that my expertise would allow me to become an immediate contributor to the team at Jasper. Specifically, I understand that Jasper is looking to expand their services in cloud computing. At my previous job, I spearheaded a new cloud computing project that generated a 15% revenue increase. The Software Engineer role at Jasper would be an exciting opportunity for me to hone my skills in this area while helping your team build their cloud computing capacity.
7. Be direct
Hiring managers are busy people, and often don't have time to read each cover letter thoroughly. To make sure your application isn't overlooked, write a short cover letter and state the job you're applying for clearly and concisely in the first paragraph of your cover letter, that way there's no confusion about your intent.
Example:
I'm writing to apply for the Restaurant Manager position at La Fare Bistro. With more than eight years in the restaurant industry as a server, manager, and host, I'm confident that my expertise aligns closely with the responsibilities required of the Restaurant Manager position.
Cover letter opening template
If you're still not sure how to start your cover letter, below is a text template you can copy and paste into a document. Once you've got your cover letter opening down, don't forget to pay attention to the rest of your cover letter format.
YOUR NAME
Address: Street, City, State, Zip Code | Email: your.email@email.com | Phone: (303) 456-7876 | LinkedIn: linkedin.com/in/your.profile
[Today's Date]
[Hiring Manager's Name]
123 Company Address
Company's City, State, Zip Code
(xxx) xxx-xxxx
hiring.manager@gmail.com
Dear [Mr./Ms./Mx.] [Hiring Manager's Last Name],
I was excited to see the [Position Name] listing at [Company Name] on [Job Search Platform]. Given my [relevant experience] and expertise in [area of expertise], I am writing to express my interest in the position, as I have long admired [Company Name]'s efforts to [company goal]. In my previous work at [Company Name], I [professional accomplishment], demonstrating keen [relevant hard or soft skills]. I believe that these experiences have prepared me well to [professional achievement goal] at [Company Name].