The main differences between a CV and a resume are their scope, purpose, and length.
A resume is a concise one- to two-page document that outlines your professional qualifications and skills. The goal of a resume is to land you a job.
A CV, on the other hand, is a multipage document that provides a full history of your academic credentials. Typically, the purpose of a CV is to get you a position in academia or research.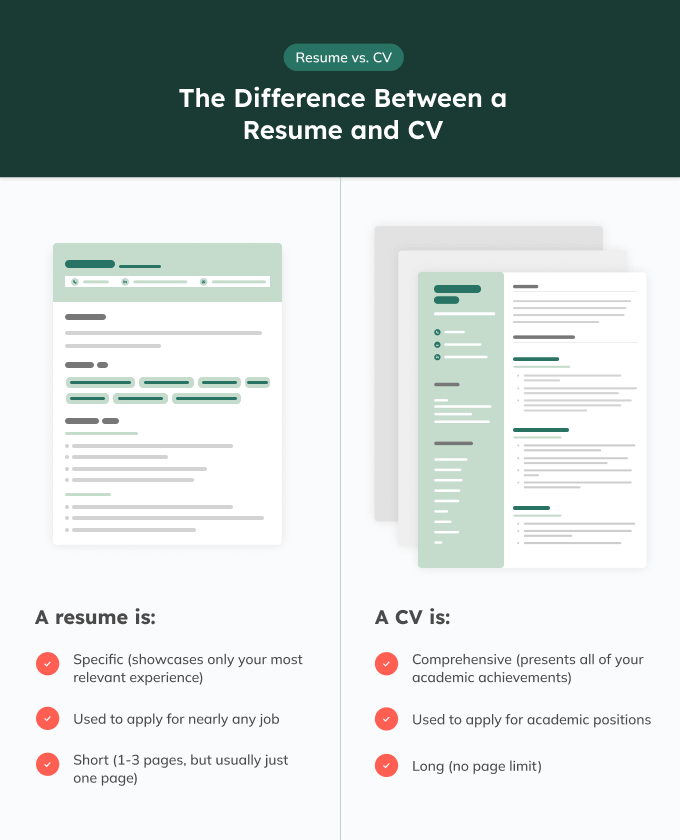 However, a CV means the same thing as "resume" in many parts of the world. For instance, if you're from Europe, you'd refer to the document you use to apply for jobs as "CV."
Here's a summarized look at how CVs and resumes are different:
Scope: A CV is an in-depth look at your entire career, back to your first job out of school. A resume is a short highlight reel of your most relevant work achievements and skills.
Purpose: CVs are used to apply for academic positions or graduate school programs. Resumes are used to apply for all other jobs.
Length: A CV grows over your lifetime as you add new information, and can run over 10 pages in length. Meanwhile, the average resume length is one page, and only includes your last 10-15 years of work experience.
Still not clear on the biggest differences between a CV and a resume? No problem, we'll explore them further in the following sections.
What is a CV? A closer look
A CV is a document providing an overview of your academic career and professional history, including your publications, conferences, teaching experience, educational history, dissertations, and more.
Short for curriculum vitæ, which means "course of life" in Latin, an academic CV is generally used to apply for grad school, PhD program, or positions in academia. Additionally, there's no limit to how long a CV can be, and in some cases they can stretch more than 10 pages in length.
However, for Europeans, a "CV" follows the same structure as the American "resume". So if you're applying for jobs in Europe, you can use your resume and simply rename name your file "[Name] CV".
CV example
This academic CV was written by G. Richard Scott, a Professor of Physical Anthropology at the University of Nevada (the contact details are made up for the sake of his privacy).
Dr. Scott has been part of the American university system for over 40 years, so his CV dates back to the 1970's. It's 24-pages long.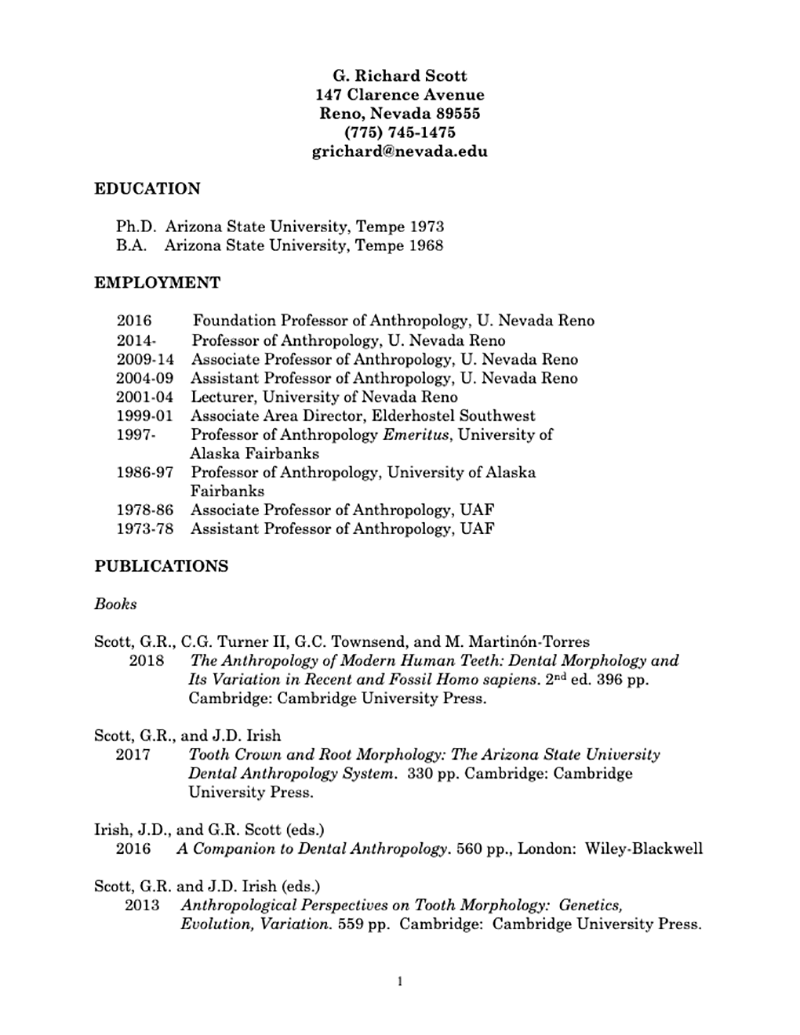 What is a resume? A closer look
A resume is a one- or two-page summary of your work experience, key skills, and job-related qualifications.
In contrast to a CV, a resume is used to apply for most non-university jobs. So 99%+ of job seekers (in the United States) should learn how to write a resume and never worry about the term "CV".
Resumes emphasize your work experience and job skills, and put less weight into your education section (unless you're a recent graduate and lack professional experience). Additionally, the design of most resumes is casual and creative when compared to your average academic CV.
Resume example
This waiter/waitress resume sample shows how a standard resume should look: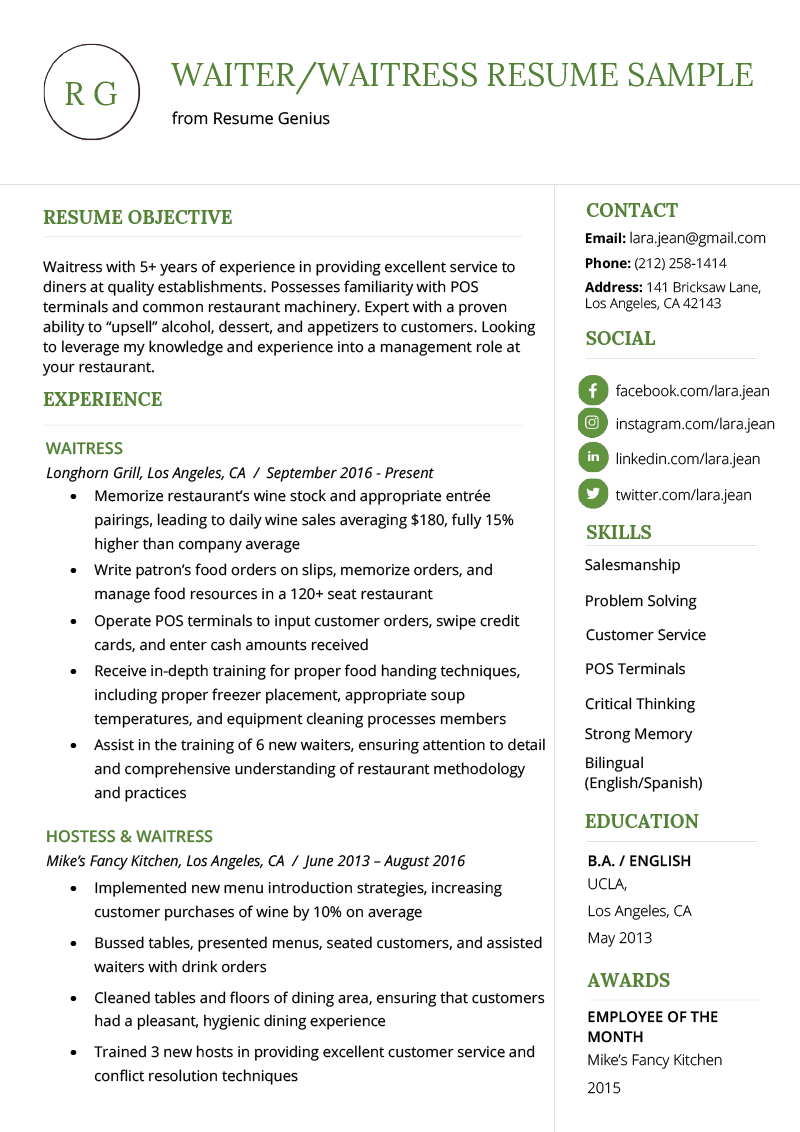 Resume vs CV (international differences)
Still not sure how a CV and a resume differ? Here's a breakdown of what a CV and a resume mean internationally:
Like we mentioned earlier, if you're applying for work outside the United States, a resume and a CV are the same thing.
In most European countries (including the UK), a CV is a one or two-page document you use to apply for jobs. The term "resume" isn't common, but is still understood by most hiring managers across Europe.
CVs for academic positions are also called CVs in Europe. However, you still might hear them called academic CVs because it makes the meaning clearer.
Canadian businesses use the word "resume" in the same way as Americans, likely because of Canada's status as the US's neighbor. Similarly, "CV" is used to apply for academic posts.
Australia & New Zealand 🇦🇺🇳🇿
In Australia and New Zealand, resumes and CVs are both used to apply for jobs. Resumes tend to be one page, summarizing the main highlights of your career, while CVs are around two to three pages and outline all of your professional experience.