One of the best ways to start writing a CV is by taking inspiration from job-winning CV examples written by other candidates in your industry. Our list of CV examples includes job-seeker CVs for dozens of different industries, plus several academic CV samples.
Whether you're a student with no work experience or an experienced professional, our CV examples will give you the inspiration you need to write your own professional CV.
What is a CV?
A CV (curriculum vitae) is a formal document that provides a summary of your skills, educational background, work history, and notable accomplishments.
In most of the world, a CV and a resume are the same thing. They're formal job-application documents used to show employers that you're qualified for the position they're hiring for.
In the United States, however, a CV specifically refers to an academic CV. An academic CV is a formal document for applying to positions in research and academia, and includes a lengthy outline of your publications, teaching experience, awards, and credentials.
Most of the examples on this page are job-seeking CVs (the type used in most of the world). However, we also feature a few academic CVs towards the bottom.
CV format template
Not sure what to include on your CV? No problem.
Here's a template that outlines exactly how to format each section of your CV and what information to include. Simply copy and paste it into Google Docs or Microsoft Word and fill it in with your qualifications and work history:
1. Contact details
Email: youremail@mail.com | Phone: (555) 123 456 | Address: 47 Tubman Avenue, Centralia, PA 17921 | LinkedIn: linkedin.com/in/yourprofile
---
2. CV Introduction
Skilled [industry] professional with [# of years] years of experience. Seeking to leverage my expertise in [relevant skills] to fill your [position name] position. An intuitive worker aiming to help achieve [Company's Name]'s goals and take on more responsibility as quickly as possible.
---
3. Work or Relevant Experience
Most Recent Job Title
Employer Name / Location / Start Date – End Date
Include a bulleted list of your accomplishments
Make sure you add numbers to these bullet points
Earlier Job Title
Employer Name / Location / Start Date – End Date
List any relevant accomplishments from an earlier job
Assuming you no longer perform this job, make sure you use past tense verbs to describe this experience
---
4. Education
Degree Name / Major
University, Location | Start Date – End Date
---
5. Skills and Certifications
List your relevant skills and certifications
Include both hard skills and soft skills
Be specific. For example, mention the names of software packages and tools you're able to use.
---
6. Additional CV Sections
Here's where you can add any other relevant information
For example, you could talk about publications, languages, volunteer experience, relevant hobbies, conferences, or grants
250+ professional CV examples
Here are over 250 samples of CVs for job seekers in nearly any industry:
Accounting & Finance CV Examples
Administration & Office Support CV Examples
Business & Management CV Examples
Construction & Maintenance CV Examples
Creative & Cultural Field CV Examples
Customer Service & Retail CV Examples
Education & Human Services CV Examples
Emergency Service CV Examples
Engineering CV Examples
Food Service CV Examples
Healthcare & Wellbeing CV Examples
Information Technology (IT) CV Examples
Law & Legal CV Examples
Life Situation & Student CV Examples
Marketing & Sales CV Examples
Personal & Child Care CV Examples
Spa & Salon CV Examples
Transportation & Logistics CV Examples
Warehouse & Manufacturing
3 academic CV samples
If you're applying for a position in academia or research, here are three academic CV examples that outline exactly what you need to include if you want to impress employers and win over hiring committees.
Medical CV Example
This medical CV example quickly and clearly highlights the writer's certifications, experience, and skills. Take a look at its structure and information for ideas when writing your own CV.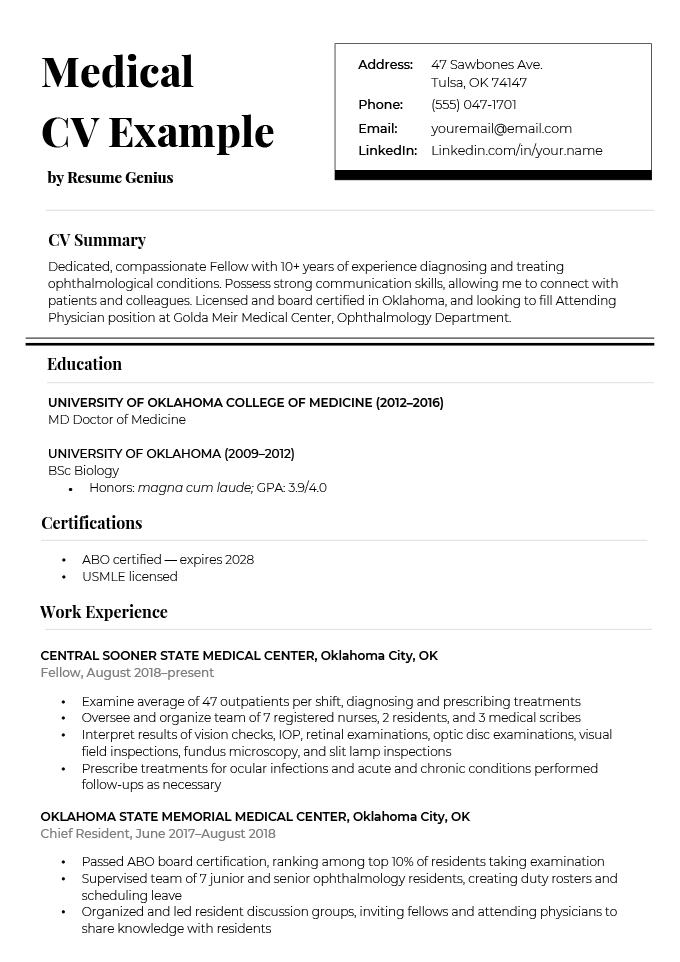 Download The Full Medical CV Example
What makes this a good CV example
This particular medical CV was written by an MD who specializes in ophthalmology (the eye and its conditions). However, the CV sample would look similar if used by allied medical professionals, such as MDs in other specialties, nurse practitioners, and physical therapists.
The writer of this CV explains their medical expertise in depth. They then go on to emphasize their ample work history section, showcasing their successes on the job, and including hard numbers to show how many patients they've treated. Such numbers illustrate the impact the candidate made in their previous workplaces.
Academic CV Example
If you're applying for a teaching position at a university (for instance, as a professor or lecturer), seek inspiration from this academic CV example.
An academic CV includes a detailed education section, publications, research projects, grants awarded, professional memberships, and most importantly, your teaching qualifications.
Download The Full Academic CV Example
What makes this a good CV example
This academic CV is a good example of how you can use your CV to place extra emphasis on one area of expertise — in this case, prior teaching experience.
The writer then clearly showcases, in chronological order, their professional academic successes in terms of publications, research, and honors to lend further credence to their qualifications. All of these details help prove that they have a deep background in their field, and give them the best chance of impressing a hiring committee.
Research CV Example
Researchers lead humanity into the future by discovering new knowledge and driving innovation. This academic research-focused CV example shows its writer is a prodigious contributor to their field.
Download The Full Research CV Example
What makes this a good CV example
This research-focused CV example gets right to the point by listing out the author's research with the most recent examples at the top. If you have a wide range of research experience, listing it before your work experience helps showcase both your expertise and primary career interests.
Making a CV is easier than you think
Now that you've seen some examples of strong CVs in your industry, you hopefully have a better idea of how to put your own together.
However, creating a CV from scratch is a whole skill on its own. From formatting to design, creating a good CV takes time and effort.
If you want to make your life easier, try using our online CV maker. Our software will help you create a professional, well-designed CV in a matter of minutes. Simply fill in your information and watch our software do the work for you.