The Proper Cover Letter Format
Here's what proper cover letter formatting looks like: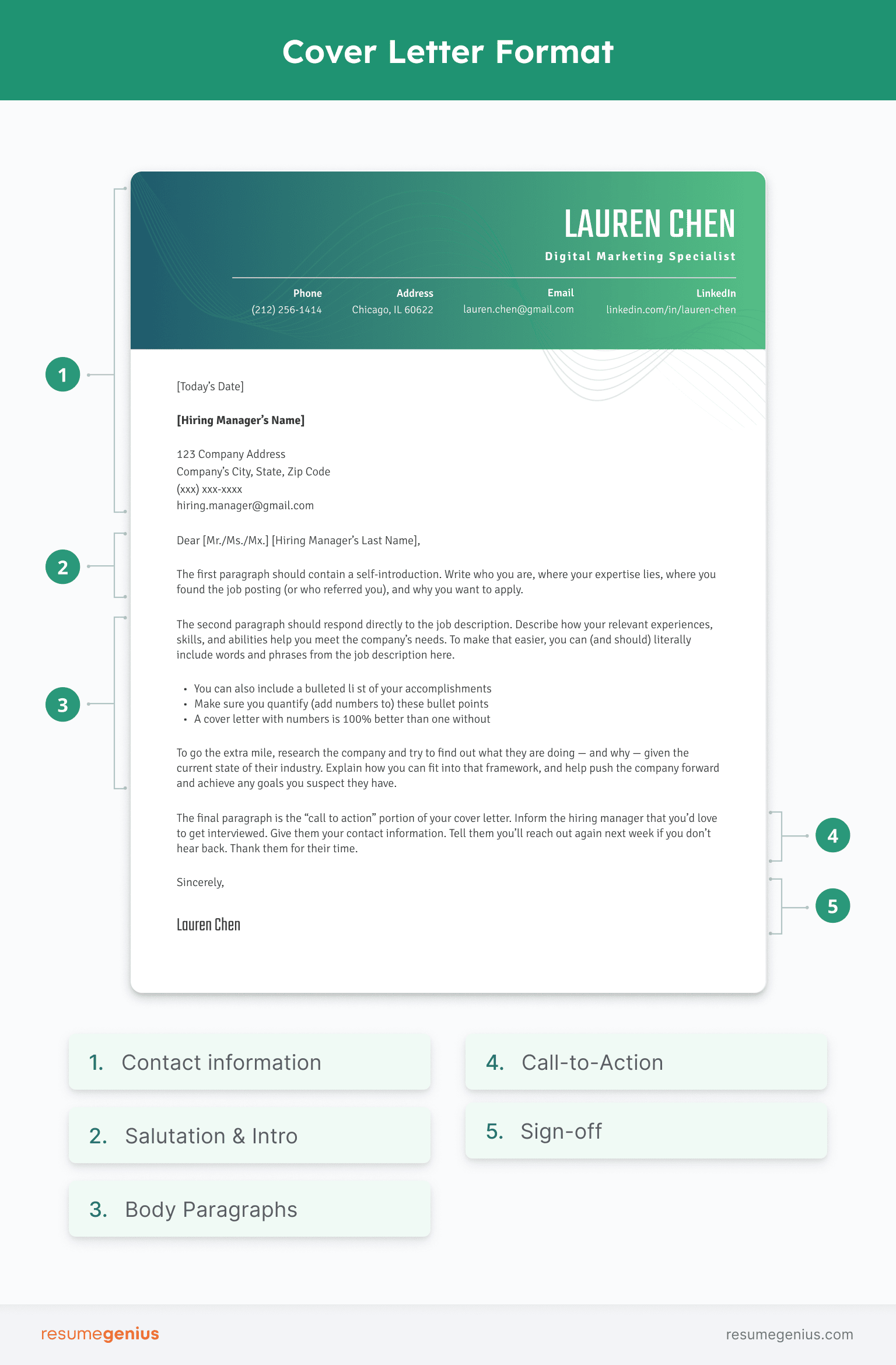 Cover Letter Formatting: Examples
Check out these cover letter examples for inspiration. If you're applying for a job in a formal industry, such as law or finance, follow the example in our standard cover letter template below:
Standard cover letter format
This is how you should format a basic cover letter.

Basic Cover Letter (Text Version)
[Today's Date]
[Hiring Manager's Name]
123 Company Address
Company's City, State, Zip Code
(xxx) xxx-xxxxhiring.manager@gmail.com
Dear [Mr./Ms./Mrs.] [Hiring Manager's Name],
As a multi-state Licensed Dentist with 8 years of experience in private practice settings, I'm excited to submit my application for the Clinical Dentist position at [Hospital/Clinic Name].
In my current role, I practice as a managing dentist and clinical dentist with full accountability for managing all general dentistry procedures for a practice grossing over $3 mil. annually. In this role, I conduct comprehensive, periodic, and emergency examinations, diagnose patients' dental conditions, and present comprehensive treatment plans.
In addition, I take great pride in delivering exceptional care to all patients by maintaining a patient-centered service environment. Please consider the following highlights of my career:
Received numerous awards in Removable Prosthodontics and Periodontics
Licensed to Practice Dentistry in Texas and Indiana
Managed 1,000+ complex cases
I look forward to an opportunity to discuss my qualifications in further detail soon. Thank you for your time and consideration.
Sincerely,
[Your Name]
Modern cover letter format
For more casual industries, like marketing or graphic design, feel free to use a more eye-catching cover letter template:
Modern Cover Letter (Text Version)
[Date]
[Hiring Manager's Name]
123 Company Address
Company's City, State, Zip Code
(xxx) xxx-xxxx[Hiring Manager's Email]
Dear [Mr./Mrs./Ms.] [Hiring Manager's Surname],
I've been in the kitchen since I was five years old, and I'd be thrilled to bring a lifetime of passion for cuisine to [Restaurant Name] as your new Line Cook. With an associate's degree in culinary arts, ACF certification, and 5 years of experience in preparing Cajun, Creole, and Middle Eastern cuisines, I'm confident that I'll be a strong candidate for the role.
As a line cook at Upperline restaurant, I'm known for delivering quality dishes that consistently garner praise from patrons. I also bring a proven ability to save thousands of dollars by reducing food waste, improving cooking processes, and negotiating with vendors.
During my career, I've shown outstanding attention to detail in preparing, cooking, and presenting food, evident in the following achievements:
Contributing to a 20% increase in monthly reservations through word of mouth from satisfied patrons
Reducing projected yearly costs by an average of $90K for 3 consecutive years
Representing Upperline restaurant on various media platforms, including local TV, newspapers, and charity events
Cooking isn't just a job to me, but a lifestyle. I often experiment with ingredients and flavors to come up with new dishes or improve existing ones on my days off. Furthermore, I enjoy training junior line cooks on recipes, techniques, and best practices.
I'm positive that I'll be an asset to [Restaurant Name]'s kitchen staff. I look forward to meeting you to learn more about the position. You may reach me by phone at (201) 516-5342 or via email at your.name@gmail.com to arrange an interview. 
Thank you for your time and consideration.
Sincerely,
[Your Name]
How to format a cover letter
If you've been wondering about the proper structure of a cover letter, we've got you covered. Here's how to format a simple cover letter in seven steps:
1. List your contact details
First, you need to know how to head a cover letter. At the top of your cover letter, include the following information:
Name

: Your full name should be the focal point of your

cover letter header

(use a large font size and bold text)

Phone number

: If you're applying for a job in a different city, state, or country, include your area/country code

Email address

: Use a professional email address such as your.name@gmail.com

Online profile

: Include a link to work-relevant online profiles, such as your personal website or LinkedIn profile
2. Add the hiring manager's address and today's date
Next, list today's date followed by the employer's contact information, leaving a space between the date and the hiring manager's name. Structure this part of your cover letter like this:
Today's date

Hiring manager's name

Company name

Company street address

Company city, state, and ZIP code
3. Include a salutation
It's good cover letter etiquette to address your cover letter to the hiring manager. To find out their name, look for it in the job description or on the company's website. If you still can't find it, try calling the company and asking for the hiring manager's name.
If none of these strategies work, avoid using a generic greeting such as "To Whom It May Concern,". Instead, customize your cover letter salutation to the team or department you're applying for, such as by using "Dear Accounting Director," or "Dear Accounting Team," or "Dear Hiring Manager,".
4. Start with an introduction paragraph
The first paragraph of your cover letter should:
Grab the hiring manager's attention

Provide a self-introduction

List the position you're applying for

Describe where you found the job posting
It's also important to express your excitement for the position when starting your cover letter.
For example, check out this candidate's professional yet charismatic introduction:
I'm applying for the position of dental assistant at Sage Dental. I noticed your job posting on Indeed and am happy to say that my 4+ years of dental assistant experience matches your clinic's needs perfectly.
If you've been referred to the role by a mutual contact of the hiring manager, include this referral in your cover letter opening paragraph.
5. Add your body paragraph(s)
Now that you've introduced yourself, highlight your experience and accomplishments to further impress the hiring manager. Use the skills, experience, and qualifications listed in the job description for ideas as you write your cover letter to show you're a good match for the role.
You can even connect the accomplishments on your resume to the goals of your target company in your cover letter.
For example, watch how this candidate sells their relevant skills:
To exceed the expectations of the hiring manager, research your potential employer. Determine the current state of the industry, the company's position in the market, and if possible, its future plans. Write a paragraph detailing how you fit into its plan. Explain how you can assist it in reaching their future goals.
If you have some career highlights to include, you can (optionally) format them as a short bulleted list between your body paragraphs. Formatting them this way helps draw more attention to your accomplishments, and makes them easier to skim. 
You should choose points that you can quantify by including hard numbers, which will make them stand out as more memorable and impressive. 
Here's an example of how to include some quantified points in your cover letter:

Including career highlights like this shows employers what you're capable of and what tangible results they can expect to benefit from if they hire you.
6. Close out with a final paragraph and a call to action
Next, end your cover letter with a strong concluding paragraph that:
Thanks the hiring manager for their time and consideration

Restates your contact information, including your phone number and email address

Finishes with a compelling call-to-action that prompts the hiring manager to invite you in for an interview
For example, check out this candidate's enthusiastic yet professional closing:
Thank you for considering my application. I'd love to join the team at [Clinic Name]. I'm looking forward to having a more detailed discussion with you about how I can join your team and help you achieve your goals. Feel free to contact me at (555) 047-1701 or matthew.clearly@mail.com.
7. Leave your signature signature
Before signing your cover letter, close it by writing "Sincerely," and then leaving a gap of two to three lines. Then type out your name.
If you want to add some extra flair, you can print out your cover letter and sign your name in the gap you left. Or you can use an electronic signature.
Professional cover letter formatting tips
Using proper cover letter format goes a long way towards making a favorable first impression on employers. Here's everything you need to know about cover letter formatting:
Font style

: Keep your

cover letter font

professional. Use a conventional font such as Times New Roman, Helvetica, Arial or Verdana. Avoid fancy fonts because they will come across as unprofessional to hiring managers — and might not get picked up by

applicant tracking systems

.

Font size

: Use no larger than a 12-point font and no smaller than a 10.5-point font. Small fonts cause hiring managers to strain their eyes, while larger fonts are unprofessional.

Margins

: Use

cover letter margins

between 1" and .5". If you're running out of space, it's okay to adjust the margins. However, avoid large adjustments that make your letter look too thin or too full.

Spacing

: Proper

cover letter spacing

requires you to leave space between each part of your cover letter. Specifically, Leave space between the date, recipient's address, salutation, body paragraphs, sign-off, signature, and your name.

File format

: If you're submitting a digital copy of your cover letter, submit your cover letter in a PDF or DOCX format. PDFs can't be easily modified by others, don't pose compatibility issues, and can be read by applicant tracking systems.

Naming your file

: When saving your cover letter as a PDF, make sure to use an appropriate name such as Your-Name-Job-Title-Cover-Letter.PDF.

Length:

Your

cover letter length

should be between 250-400 words, and use up no more than one page.
Cover letter formatting for email cover letters
If you're required to send your cover letter in the body of an email (not as an attachment), the format of your email cover letter should look something like this:
Cover Letter Format for an Email
Subject line

  – Use a professional subject line that clearly states the position titles and your name.

Salutation

– Begin your cover letter email by politely addressing the hiring manager by name (for example, "Dear Ms. Prudence,")

The "Intro" paragraph

– Introduce yourself and express your interest in the position.

The "Hard Sell" paragraph

– Prove how qualified you are. Reference the job posting.

The "Action" paragraph

– Thank the hiring manager and express interest in an interview.

Sign-off

— "Sincerely," is standard for cover letters, but "Best wishes," "Cordially," and "Best regards" are also acceptable for email cover letters.

Contact information

– Provide your contact information at the bottom of your email.
There's no need to include the date or the hiring manager's contact information.
Here's an example of a cover letter in email form:
Once you've properly formatted your cover letter, you should double-check for spelling and typos (and get someone to do a final check). Then send it off. Good luck on the job hunt!