The best way to start writing a cover letter for a job in 2022 is to check out examples of good cover letters.
Our extensive list of cover letter samples is perfect for all job seekers, whether you need to write one for a specific life situation (like a career change) or you're looking for the best cover letter format to use in your industry.
Table of Contents
What should a great cover letter say?
Not sure what a cover letter is or what it should include? A killer cover letter is made of the following four parts:
Salutation: A professional greeting that addresses the hiring manager by name
Introduction: An attention-grabbing opening paragraph that introduces yourself and your intention to apply for the open role
Body paragraph(s): One or two paragraphs describing your relevant professional experience, achievements, skills, and education
Closing paragraph: A final paragraph that contains a call to action (CTA), asking the hiring manager to invite you in for an interview
The cover letter template below describes how to write each of these key sections:
Salutation
Dear [Hiring Manager's Name],
Opening Paragraph (Introduction)
Your cover letter opening should contain a self introduction. Write about who you are, where your expertise lies, where you found the job posting, and why you want to apply for the job.
Body Paragraphs
The second paragraph of your cover letter should respond directly to the job description written by the hiring manager. Describe how your previous job experiences, skills, and abilities will help you meet the company's needs. To make that easier, you should include exact words and phrases from the job descriptions in your cover letter.
You can include a bulleted list of your accomplishments
Make sure to use numbers or percentages to emphasize your bullet points (e.g. Increased online revenue by 13%)
Do some research about the company and find out what their current activities and goals are. Explain how you can help them achieve those goals.
Closing Paragraph
Your cover letter closing is the call-to-action portion of your cover letter. Inform the hiring manager that you'd love to go in for an interview. Provide your email address or other contact information and tell them that you'll reach out in a week if you don't hear back. Thank them for spending their time reading your cover letter.
Sincerely,
Your Name
1. General Cover Letter Example
This general cover letter was written by a candidate with two years of work experience.
In the example, the candidate is applying for a mid-level digital marketing position. In the first paragraph, the applicant:
used the hiring manager's name (showing that effort was put into locating it)
mentioned where she found the job posting (HR managers love this)
highlighted relevant experience, establishing her ability to do the job
The cover letter example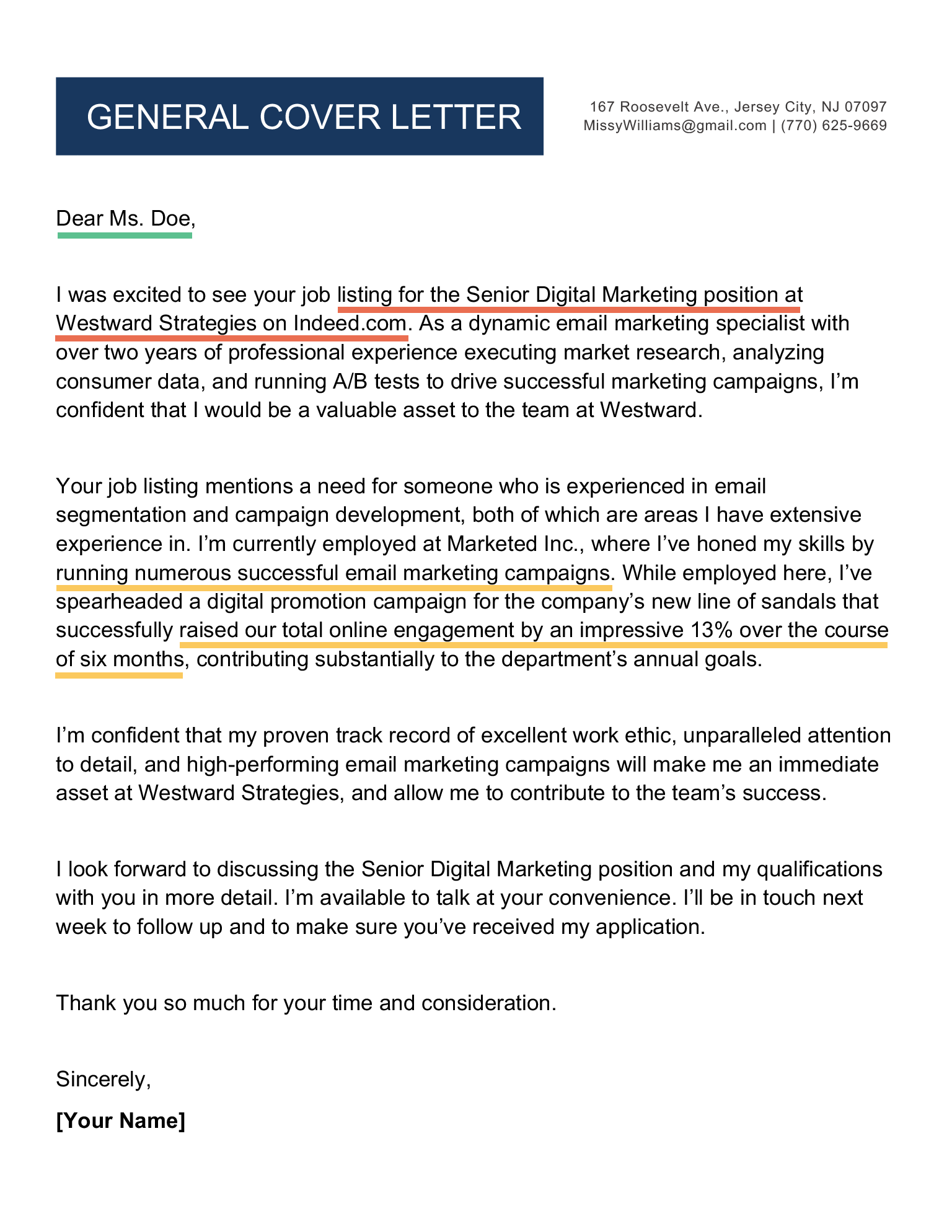 Download This Free Example
Here's a text version of this cover letter sample in case you want a closer look at each paragraph:
General cover letter example (text version)
Dear Ms. Doe,
I was excited to see your job listing for the Senior Digital Marketing position at Westward Strategies on Indeed.com. As a dynamic email marketing specialist with over two years of professional experience executing market research, analyzing consumer data, and running A/B tests to drive successful marketing campaigns, I'm confident that I would be a valuable asset to the team at Westward.
Your job listing mentions a need for someone who is experienced in email segmentation and campaign development, both of which are areas I have extensive experience in. I'm currently employed at Marketed Inc., where I've honed my skills by running numerous successful email marketing campaigns. While employed here, I've spearheaded a digital promotion campaign for the company's new line of sandals that successfully raised our total online engagement by an impressive 13% over the course of six months, contributing substantially to the department's annual goals.
I'm confident that my proven track record of excellent work ethic, unparalleled attention to detail, and high-performing email marketing campaigns will make me an immediate asset at Westward Strategies, and allow me to contribute to the team's success.
I look forward to discussing the Senior Digital Marketing position and my qualifications with you in more detail. I'm available to talk at your convenience. I'll be in touch next week to follow up and to make sure you've received my application.
Thank you so much for your time and consideration.
Sincerely,
[Your Name]
Why this is a great example of a cover letter
In the cover letter example above, the candidate is concise and direct. She conveys much of what a cover letter should say in the opening paragraph, like her amount and type of experience, plus where she found the job.
Then the candidate lists specific responsibilities from the job description, and mentions her experience handling similar responsibilities. She even gives an example of how her efforts have benefited her current employer.
At this point, the candidate's cover letter has already helped the hiring manager better understand her value as a hire. But she's not done yet.
Finally, the candidate signs off by mentioning how she'll reach out if she doesn't hear back from the hiring manager. This call to action is a key part of a general cover letter, because it highlights the writer's interest in the job, and willingness to go further than other candidates for the opportunity.
2. Professional Cover Letter Example
Are you a senior-level professional or experienced manager trying to highlight your professionalism in a cover letter?
The restaurant manager cover letter example below will show you how to come off as a qualified veteran:
The cover letter example
Want a closer look at this cover letter sample? Here's a text version you can go through line-by-line:
Professional cover letter example (text version)
Dear [Hiring Manager's Name],
I'm writing to apply for the Restaurant Manager opening at MOD Sequel. I have more than five years of experience managing restaurants and bars, and my professional expertise aligns closely with the responsibilities outlined in your job advertisement.
In my role as Restaurant Manager for Bar Louie, I proved to be an efficient, enthusiastic, and strong leader. My value quickly became apparent to Bar Louie's shareholders after I single-handedly trained and prepared the entire waitstaff for opening night and beyond. Not only did our team meet sales goals each month for the first year, but the down payment for the property was even paid back after the first six months of operating.
MOD Sequel would benefit from my skills in the following areas:
• Eye for excellence and high level of standards
• Strong work ethic and leadership skills
• Positive attitude even under pressure
I believe MOD Sequel will be a great success for many years to come, and my extensive expertise will help ensure your establishment succeeds well into the future. My time spent in this industry has prepared me for such an opportunity, and I sincerely hope I can contribute soon as a member of your team.
It would be a privilege to discuss your Restaurant Manager position in more detail. I'm happy to come by whenever it's most convenient for you. Thank you for your time, and I'm looking forward to hearing from you.
Sincerely,
[Your Name]
Why this is a great cover letter
Right from the start, this applicant showcases the managerial skills they developed while working in the service industry. They then highlight how they'll apply those skills to make an immediate impact on the company.
Additionally, the applicant mentions the company by name three times. It's clear that they're familiar with the business, have an interest in joining this specific team, and understand how they'd fit on the team if hired.
Lastly, our applicant's cover letter includes their address to highlight how close they live to the restaurant. However, listing your address on a cover letter is optional in 2022 because most applications are submitted online.
3. Creative Cover Letter Example
A creative cover letter makes you stand out by adding a bit of personality and flair to your application.
In our creative cover letter example, the candidate is applying for a senior-level social media manager position. By the second paragraph, she has the reader's attention. Then, she establishes her qualifications:
The cover letter example
​​ Download This Free Example
Why this is a great example of a cover letter
First, the candidate doesn't waste the reader's time. She immediately states her interest in the position, relevant qualifications, and specific skills. Hiring managers are busy, so it's crucial to be direct in both your cover letter and resume.
Next, she presents her information in a casual, fun tone. A personal touch in your cover letter helps you present yourself as a creative, enthusiastic job seeker. It also makes your application more memorable.
Finally, the candidate lists specific accomplishments from her previous job, and explains how these accomplishments are relevant to the position.
Elaborating on your professional achievements is essential to writing a great cover letter. Your achievements show the hiring manager what they will gain by hiring you, and emphasize your worth as a potential employee.
4. Entry-Level Cover Letter Example
This entry-level cover letter was written by a recent graduate who only has a little part-time work experience.
In our example, the candidate is applying for an entry-level IT technician position. She quickly establishes her enthusiasm about the opportunity, and then highlights her relevant skills to show she can do the job:
The cover letter example
Download This Free Example
What makes this a great cover letter
This entry-level cover letter sample stands out because the applicant emphasizes her enthusiasm about the opportunity from the very first sentence.
Beyond her enthusiasm, the candidate also shows she's qualified. She quickly (and convincingly) markets her professional strengths, including relevant hard skills (Linux, backend coding) and soft skills (precision, attention to detail).
By the end of her cover letter, the candidate has even demonstrated that she's researched the position, and is passionate about the work the company is doing. Overall, this is an effective way to make a positive impression as an entry-level job seeker because it shows the employer that you're passionate and ready to learn.
5. Career Change Cover Letter Example
Writing a cover letter for a job in your current industry is pretty straightforward. But writing a career change cover letter requires some finesse.
The sample cover letter below includes the three elements you need to persuade a hiring manager you're ready to transfer industries, such as:
One reason (or more) for the career change
An example of a transferable skill in action
Proof of commitment to the new field
The cover letter example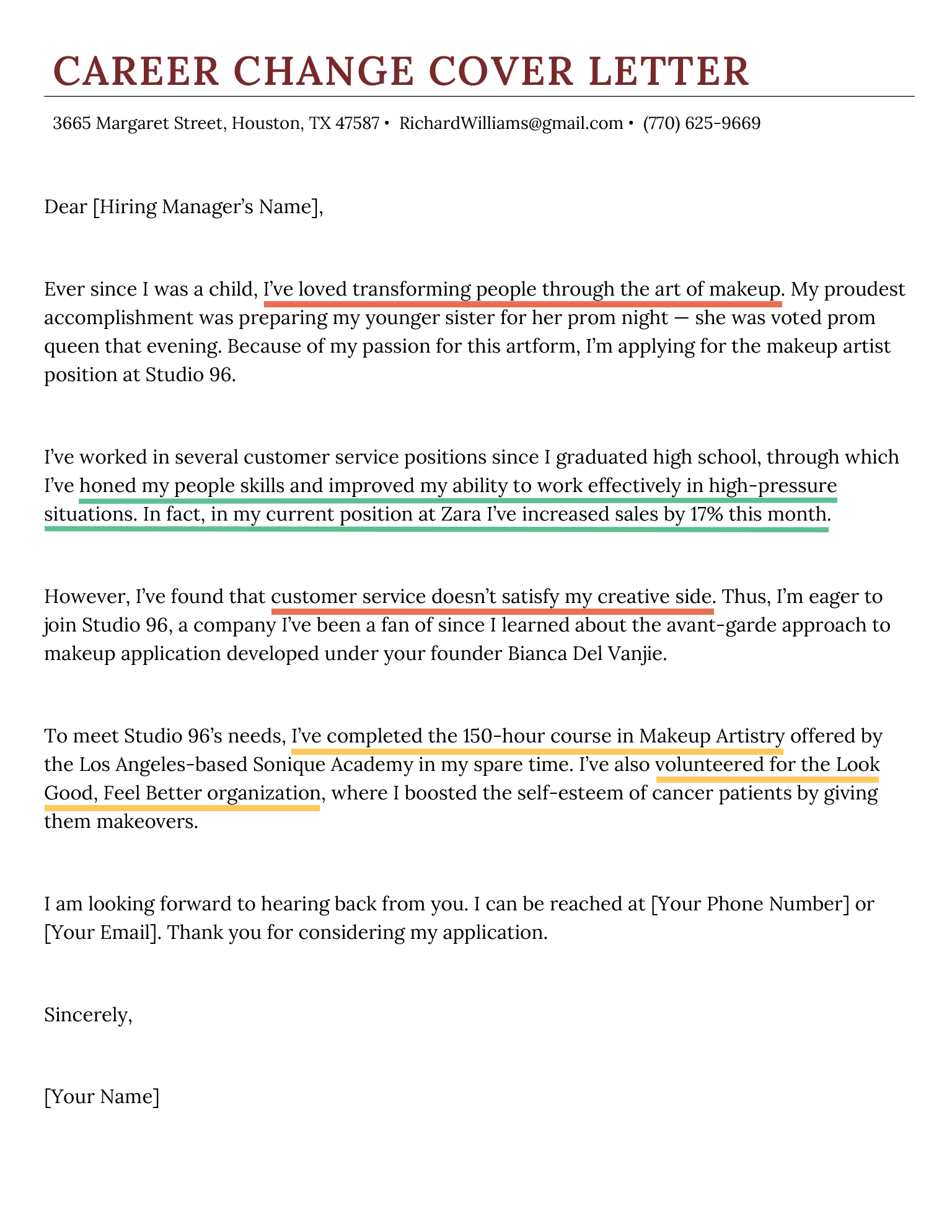 Download This Free Example
Why this is a great example of a cover letter
The first reason this is a great cover letter example is that it's sincere. It's immediately clear the author is passionate about her target industry. She even provides a relatable story to emphasize this sincerity.
This cover letter is also great because it's honest. Letting the hiring manager know why you're looking for employment in a different industry is important if you're changing careers, because they'll want to know your reason(s).
Finally, it's clear the writer of this cover letter is committed to the new job. She's even worked on her skill-set to prepare her for this career change.
6. Cover Letter for Promotion Example
Have you been with your current company for a while and want to take on more responsibility? You'll likely need to write an internal cover letter for promotion to convince your boss that you're ready to move up the corporate ladder.
A cover letter for promotion differs from a regular cover letter in two ways:
It emphasizes your managerial or higher-level skills
It focuses on your dedication to your current company
In the following example, the candidate is writing to the marketing director of their company to apply for an open senior-level sales manager position:
The cover letter example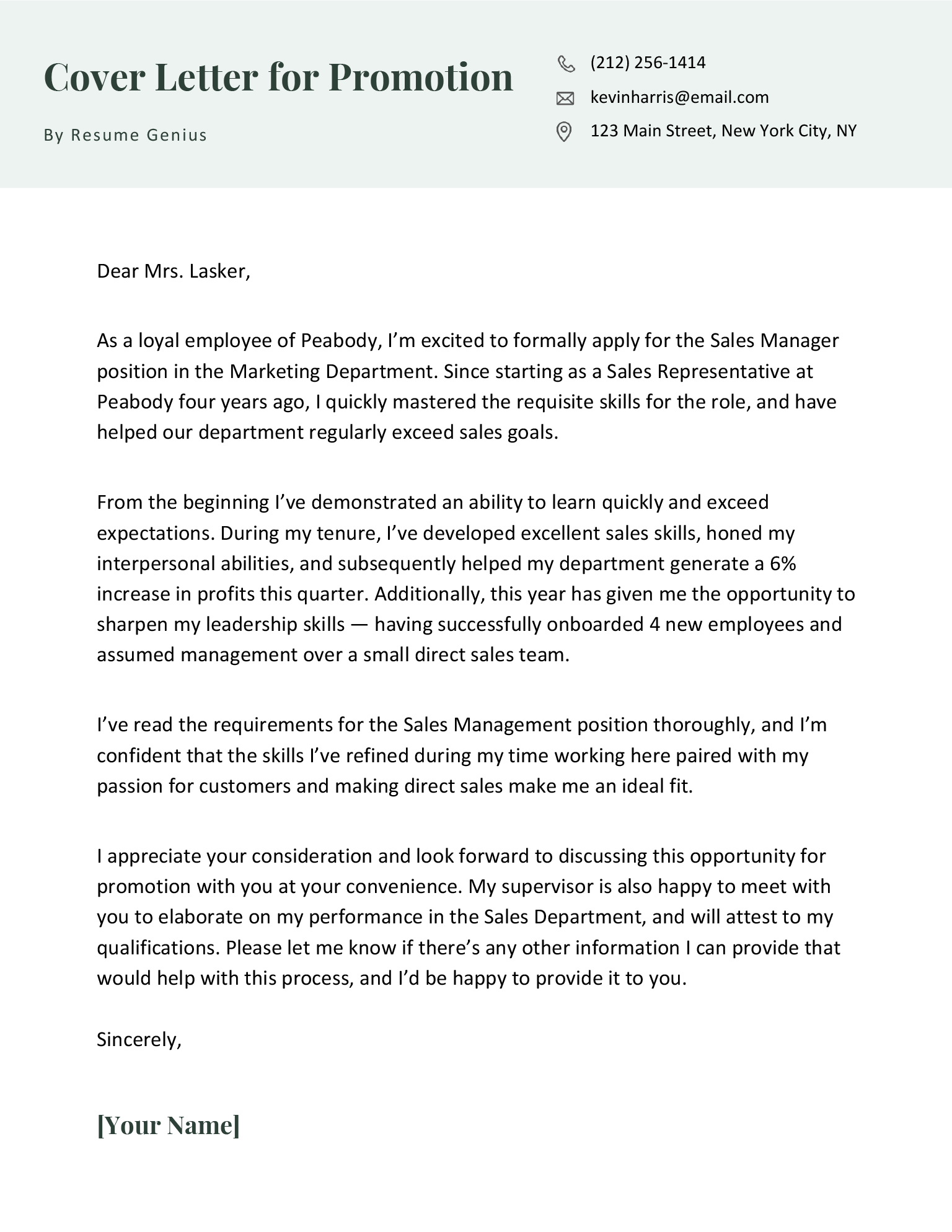 Why this is a great example of a cover letter
This candidate's cover letter stands out because it's direct and highlights specific accomplishments expected of a managerial-level employee.
In the introduction of this cover letter, the candidate emphasizes his loyalty to the company, and quickly moves on to talk about the contributions he's made to his team.
Then, the candidate provides examples of his leadership and management experience to demonstrate that he's ready to take on a more significant role.
By the end of this cover letter, this candidate has shown his boss that he's not only made an impact in his current role, but is already exceeding expectations and has the skills needed to keep up with the demands of a more senior position.
Cover Letter Examples by Application Type
The following guides will show you how to write a variety of different cover letter formats and types:
Cover Letter Examples by Industry
Our robust collection of industry-specific cover letter examples is sure to have a cover letter for your unique situation. You can download all of these sample cover letters for free and customize them to fit your needs. We also have a sample cover letter template that you can use to quickly write the content of your letter.
Click your industry below to find examples for different jobs:
Accounting & Finance Cover Letter Examples
Administration & Office Support Cover Letter Samples
Management & Business Cover Letter Examples
Construction & Maintenance Cover Letter Samples
Creative & Cultural Fields Cover Letter Examples
Customer Service & Retail Cover Letter Samples
Education & Human Services Cover Letter Examples
Emergency Services Cover Letter Samples
Engineering Cover Letter Examples
Food Service Cover Letter Samples
Healthcare & Wellbeing Cover Letter Examples
Information Technology (IT) Cover Letter Samples
Law & Legal Cover Letter Examples
Student Cover Letter Samples
Marketing & Sales Cover Letter Examples
Personal & Child Care Cover Letter Samples
Spa & Salon Cover Letter Examples
Transportation & Logistics Cover Letter Samples
Once you've found a cover letter example for your target position, use a matching resume sample to help you write a resume and complete your job application.
Start Writing Your Best Cover Letter
The examples above should be enough to get you started writing the perfect cover letter for a new job. Whether you start from a blank Word document, copy and edit one of our examples as a template, or use our cover letter builder, take your time and make sure you give the employer the best representation of yourself as a job seeker and individual.
Cover Letter FAQs