There's no one best font for resumes in 2022. Just use an easy-to-read, 10–12 point font — any of the 10 best resume fonts work:
Arial
Lato
Calibri
Helvetica
Trebuchet MS
Cambria
Georgia
Garamond
Book Antiqua
Times New Roman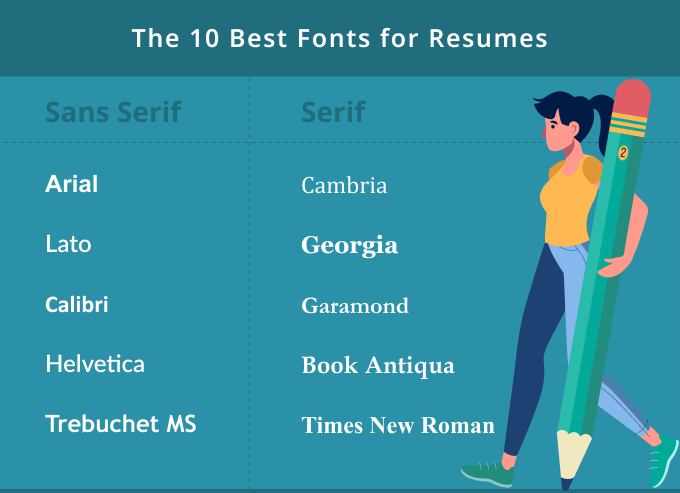 While all clean fonts work for your resume, you can use their slight variations to tweak your application based on your target industry. Scroll down to find out how.
Best resume fonts for different types of jobs
Already know how to write a resume that showcases your most relevant qualifications? That's great, but you can still improve your resume by finding the perfect typesetting for the kind of work you want.
Click the category below that best fits your target job to see expert font recommendations:
Fonts for creative resumes
Writing a resume for a creative job, like a graphic design, video editing, or theater position? Use either the serif Book Antiqua or the sans serif Trebuchet MS.
Both of these fonts are designed to be easy to differentiate from other fonts, so they're perfect for impressing hiring managers in creative fields.
Here's an example of a creative resume's work experience section, first in Trebuchet MS, and then in Book Antiqua:
Business & finance resume fonts
To succeed in business and finance, you need to take your work seriously. So use a resume font that gives your target employer the impression that you mean business.
Cambria is an ideal font for your white-collar resume because it was created for both printed and digital business documents — and you'll be expected to bring a hard copy of your resume to a formal job interview. If you prefer a sans serif font, use Lato, which was created to evoke "stability and seriousness," according to Google.
This is an example of what your resume work experience section will look like when you use Cambria or Lato on your resume:
Resume fonts for technology job applications
If you're applying to a job in the tech industry — software engineer, for example — your resume should feature modern skills, such as coding, software engineering, and information technology (IT) skills. Present your technical skills in a modern sans serif font like Helvetica Neue, which is included in Microsoft Word's modern font grouping.
However, if you want to use a serif font, go for Garamond. Although Garamond was designed in the 1700s, its role in the creation of the Google logo makes it a great choice for technical resume writing.
Here's an example of a tech resume bullet point set in Helvetica Neue, followed by one written in Garamond:
Service resume fonts
Looking for a professional font for your customer service or hospitality resume? We suggest using Calibri or Georgia.
Calibri is one of the best sans serif fonts for service resumes because it was designed to have a warm and soft character, according to its creator, Lucas de Groot. Georgia is a good serif font for your service resume because it "exudes a sense of friendliness" and "a feeling of intimacy" per Microsoft.
Here are Calibri and Georgia in action on a cashier resume example:
Resume fonts for science applicants
The term "sciences" covers a broad range of job titles, including physician assistant, pharmacist, and astronomer. Being trustworthy is essential in such positions, so our font recommendation for your science or medical resume is Baskerville, a serif font that science suggests can inspire trust.
For a more modern-looking medical or scientific resume, use the sans serif Helvetica. This classic font is known for portraying neutrality, a quality hiring managers in scientific industries want to see in applicants.
To give you an idea of what your resume will look like when you change the font to Baskerville or Helvetica, here's an example from a lab technician's resume:
Fonts for blue-collar resumes
Writing a resume after learning a trade at vocational school? Use Times New Roman or Arial — two of the most common, straightforward fonts available — to show hiring managers your hard skills.
These work experience bullet points from an example custodian resume show how good Times New Roman and Arial are for laborer resumes:
Education & academic resume fonts
Whether you're seeking an elementary teacher position or a research assistant job, hiring managers will look for a high level of traditional education on your resume. Describe your academic qualifications with a traditional font like Times New Roman or Calibri.
This is how Times New Roman and Calibri look on an art teacher resume:
Resume fonts for law & politics job seekers
Lawyers and politicians need to inspire trust to win legal cases and elections. If you're applying to work as a paralegal, a campaign fundraiser, or any other job in the legal and political fields, use the trust-inspiring serif font Baskerville or the serious sans serif Lato.
Below is a bullet point from a law school resume written in Baskerville and Lato:
Choosing the right resume font size
Readability is the biggest part of the font you choose for your resume. So while 10–12 points works for most resume fonts, the truth is that each font varies.
To find a perfect balance:
pick a font style
adjust the font size until your resume appears filled (but not stuffed) with text
ask someone else to read your resume to see if the text looks too big or small