Are you applying for your dream university or research program? If so, then you'll need to include an academic curriculum vitae (CV) in your application. There are many different CV samples out there. However, an academic CV (sometimes referred to as an academic resume) is purely related to academia.
The differences between a CV and a resume are substantial, and you'll need to include a lot of information that you wouldn't normally focus on, such as your publications, grants, and fellowships.
This page is geared toward individuals more entry to mid-level in their academic careers. More experienced individuals may want an academic CV format that's tailored differently, focusing purely on their teaching or research experience.
Regardless of your seniority, writing an academic CV doesn't have to be difficult. Our expert guide and CV template will teach you how to put together a strong CV that helps you get into the program of your choice.
Academic CV Example
Here's an example of the first page of a successful academic CV written by a recent MBA graduate applying for a PHD program.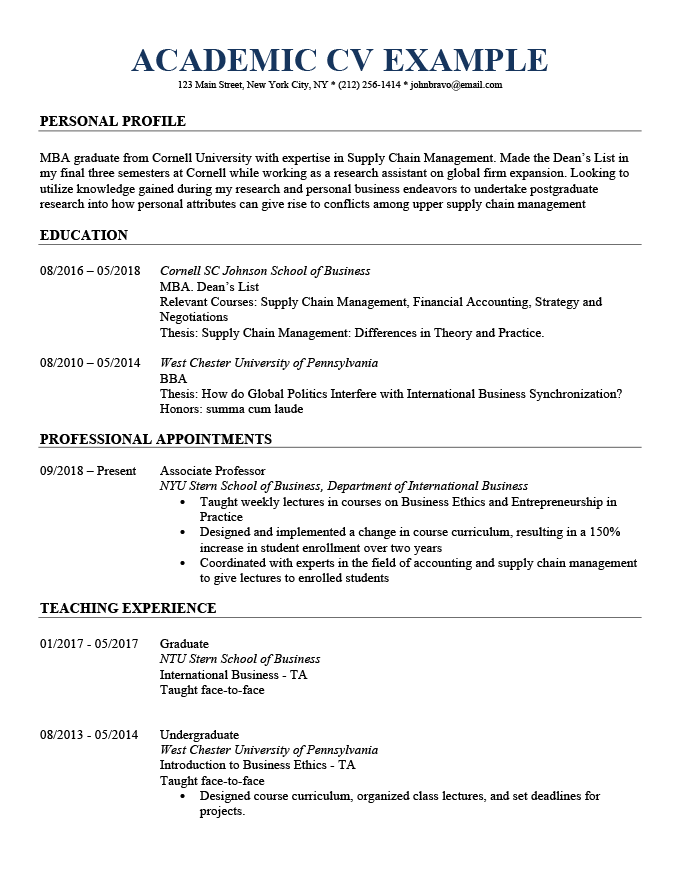 What to include in an academic CV
Here are some basic details that you need to include on your academic CV:
1. Contact information
Your contact information should be the first thing any department head sees on your CV.
Include the following basic information:
Email
Name
Phone number
Address
However, make sure that you use a professional email address (i.e. FirstnameLastname@email.com) on your CV. Most department heads won't be impressed receiving a Ph.D. application from darkhearts65@hotmail.com.
2. Personal profile
Knowing how to start a resume is critical for landing a job, and your CV is no different when it comes to getting a position in academia.
Your CV's personal profile is a chance to briefly express who you are and summarize some of your key accomplishments.
To write a CV personal profile, state exactly what position you're applying for, why you're applying, and then summarize some of your key accomplishments and skills. The information you put in your profile provides a quick overview of what's in your CV, and provides a bit of extra context.
3. Education history
Having a detailed education section on your CV is essential for anyone in academia. Normally, certain degrees are prerequisites for being accepted into other higher-learning programs.
You should state your educational background in reverse chronological order, starting with the university you currently attend (or most recently graduated from). For each entry, state the institutions you've attended, degree earned, and your date of graduation.
Additionally, highlight any achievements such as your GPA, or whether or not you made the Dean's list.
Here's an example of a properly formatted education section for an academic CV:
4. Professional appointments
List your professional appointments on your academic CV. Keep in mind that these are positions related to academia, not previous jobs you had as a chef or computer programmer.
They are also typically tenure-track positions, not ad hoc and adjunct professor gigs, nor TA (teacher assistant) experience. Instead, you should label that experience under "Teaching Experience," which will be discussed later.
Only include contractual academic-related work in your professional appointments section, and list the following information for each entry:
Institution
Department
Your title
Dates employed
Duties
5. Teaching Experience
If you're a current or aspiring professor, this section will be one of the most important parts of your CV. List any TA positions, adjunct positions, or courses that you've taught here.
For each entry, include the institution, department, course, dates taught, and whether the course was graduate or undergraduate.
There is no need to list your duties as TA. The only exception to this rule is if your department/institution required TAs to design and solely teach courses. If this is the case for the courses you taught, then list duties on your CV.
Note that if you've had a lot of TA/adjunct positions you should only highlight a few that are relevant to the program or field you are applying for a position in.
6. Publications
Have you conducted research and had it published? Your publications are possibly even more important than which universities you've attended or your professional appointments. This is especially true if you're already an established expert in your field.
You should divide your publications into "peer-reviewed" and "other", and then organize them by publication date.
Furthermore, divide them among where they were published, whether that's peer-reviewed journals, books, book chapters, book reviews, edited volumes, or web-based publications.
Future publications or those currently under review may also be listed here. Just make sure you provide the full citation or as much information as you currently have. If they are currently in the process of being published they should be categorized as "in press" instead of the year published.
Here's an example of a properly formatted publications section on an academic CV:
7. Grants & Fellowships
Have you been awarded funding for research projects? That's great! Especially since U.S. federal budget cuts have made funding scarcer among science organizations such as the National Institutes of Health (NIH) and the National Science Foundation (NSF).
In general, getting funded means that your research was impressive and worthy enough to gather attention and support. So, providing evidence of your grants is a great way to illustrate your accomplishments to department heads.
When listing grants or fellowships on your CV, simply list which institution provided the funding, along with the year span.
8. Awards & Honors
If you've received any awards, mention them here. First list the date you received it, granting institution, and the award name (or some sort of description).
Listing the monetary value of the award is field-specific. Check with a trusted official/senior advisor in your field.
9. Invited Talks
If you've been invited to another campus to speak, you should list that in an independent section. Include the institution's name and location, department, dates of the talk, and a brief description (or simply the title) of what you spoke about.
Being invited as a speaker is a great addition to your CV because it demonstrates to department heads that you have recognition as an expert in your field of study.
10. Conferences
Have you participated in a conference before? You should include that in your academic CV as well.
Note that these are conferences in which you did not give a lecture. List these with organizing panel/institution, paper title/topic, conference name, and dates.
Additionally, mention the acceptance rate of the conference if you want to emphasize how prestigious the event is.
11. Research experience
If you were an RA (Research Assistant, Research Associate), list out the research projects you've undertaken.
When listing research experience on your academic CV, include the date, institution, and position held.
Then provide a short description that explains how the research was done. For example, whether it was conducted by a team or a complex effort undertaken by multiple labs.
12. Language and skills
If you speak more than one language, list your language skills in a dedicated section on your CV.
List each language with your proficiency level in reading, writing, and speaking. Common terms you can use to describe your proficiency are "native," "fluent," "intermediate," "conversational," or "elementary."
Many universities view language skills as an indication of scholarly success, and foreign languages can generally be useful in a variety of different fields of study.
13. References
Unlike a standard resume or a CV for a job, you should include a list of references toward the bottom of your academic CV.
List each reference's name, title, mailing address, telephone number, and email address.
While this seems like a lot of information for one person, (and it's highly unlikely that the institution will actually contact them by mail), this is the traditional format for including references, and should be followed by everyone.
2 tips for writing an academic CV that stands out
Now that we've gone through the sections that you should include on your academic CV, here are two tips for writing a CV that gets you closer to being accepted into your dream program or institution.
Remember, you may be a qualified applicant, but unless your academic CV is well written it may end up in the discard pile regardless of your background and skills.
1. Know your audience
One of the most overlooked parts of writing a CV is tailoring it for the audience that'll be reading it. For example, you should adjust your CV to whichever department or field that you're applying for.
What do they value above anything else? Research? Educational experience? Publications? Whichever it is, list it first on your CV so that the department head finds what they're looking for immediately.
Additionally, do research online regarding previous applicants and their experience, or talk to experts/senior advisors within your field to find out more about what that institution is looking for in a candidate.
2. Don't use a lot of technical jargon
Your CV should be clear, consistent, and easily understood by anyone that reads it, not just fellow academics in your field.
That's because the university admissions department may not understand all the technical jargon from the field you're familiar with when reviewing your application. Not only that, but even other academics in your field may not always be familiar with the exact methodologies you've used in the past.
Your publications and research will speak for itself when it comes time for department heads to read your CV. For everything else, your information should be as easy to read and understand as possible.
Academic CV Template
Here's an academic CV template that you can paste into Microsoft Word or Google Docs and fill out. It includes an outline for each section you should include, and what information you should list to best highlight your qualifications.
1. CV Heading
FIRST AND LAST NAME
Email: youremail@gmail.com | Phone: 895 555 555 | Address: 4397 Aaron Smith Drive Harrisburg, PA 17101 | Linkedin: linkedin.com/in/yourprofile
---
2. Personal Profile
Recent graduate from [Institution Name] with expertise in [field]. [Briefly describe any personal achievements, such as Dean's list, previous research assistant positions held, etc]. Looking to utilize knowledge gained during my research on [research topic] to undertake postgraduate research into [future research topic, or thesis proposal].
---
3. Education
Dates (most recent first) | Degree Name/Major
Institution/University, Location
Relevant coursework: You can list relevant areas of study here
Honors (if applicable)
---
4. Professional Appointments
Dates (most recent first) | Position (i.e., Associate Professor, etc.)
Institution/University, Department
Include a bulleted list of your duties
Highlight any improvements or accomplishments you made
---
5. Teaching Experience
Dates (most recent first) | Position (i.e., TA, etc.)
Institution/University, Department
Further divide by undergraduate and graduate courses taught
Only include a bulleted list of duties if your institution requires TA's to solely design and teach courses
Because of the impact of COVID-19, some institutions may want you to specify if the class was taught online or in-person
---
6. Research Experience
Dates (most recent first) | Position (i.e., Research Assistant, etc.)
Institution/University
Include a brief description of your duties. These can be bulleted or in paragraph format
---
7. Publications
This section depends on which bibliography you are using
Below is an example of MLA format
Note that you can list multiple names, using a comma to separate each name
Last Name, First Initial. "Article." Journal name Volume Number. Issue Number (Year Published): Pages
---
8. Awards & Honors
Date | Awarding Institution | Award title
---
9. References
List your reference's first and last name
Include their address
Phone Number
Email